So I have a broken foot and have two months to spend at my desk. Lots of time to improve my home network.
Here is a picture of the actual situation.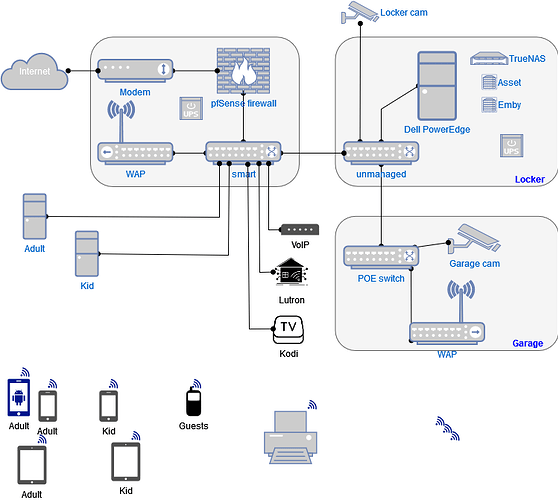 I have only one subnet as the smart switch (16 ports) was aquired this week.
The grayed boxes show equipment that is physically in the same room.
There is only 1 CAT6 from the ground floor to the locker downstairs (damn).
There is 2 CAT6 from the locker room to the garage.
The garage is 20m from the locker room.
My main concern is to protect the Server, running:
TrueNAS
Emby (video server) in a jail
Asset (music server) in a debian VM
The main threat seems to be the WAP on the same unmanage switch than the server.
Here are some questions on how this should be subdivided
I guess I should put another smart switch in the locker in order to put the server and the WAP on two different subnets?
Is the Kid's PC more at risk than adult's PC, hence requiring a subnet for the kid?
What are the risks of the VoIP AT
What are the risk of the Lutron (smart light switch).
Any insights on how to subdivide this would be greatly appreciated.
Thanks