My cabinet is getting close to being too full. Top to bottom. pfSense router, 2 node VM host, FreeNAS server, VM host/storage server, 24 port switch, 24 port POE switch, UPS.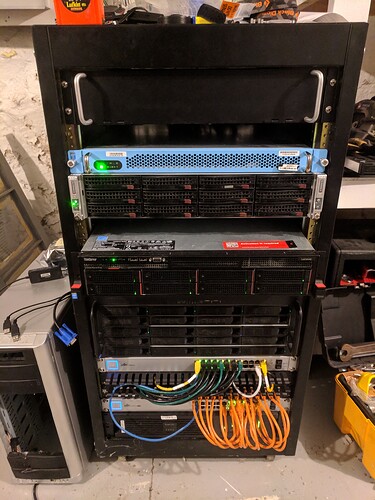 Here is a pic of my network at the moment i will spare showing you the cable disaster on the back side.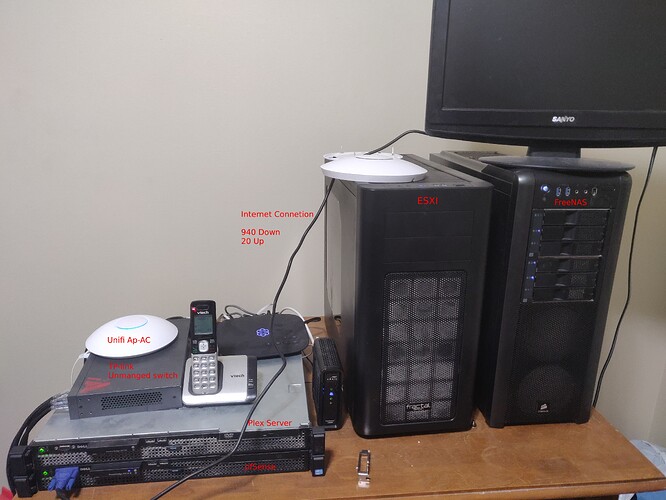 Any reason why you build it yourself?
I was considering doing something, and my first attempt was with a standard kitchen cupboard for wall mounting, it looked nice from outside, but it was not suited at all for things like that on the inside.
Before doing my current setup, I considered making something, but after looking at the prices, I saw I could never get anything to look anywhere near as good, for the same amount of money.
I will be hosting a LAN Party at my hometown… Will use this for the LAN Party itself and for my personal use at home.
Just went with one built by myself because I like DIY stuff.
Picture from 2018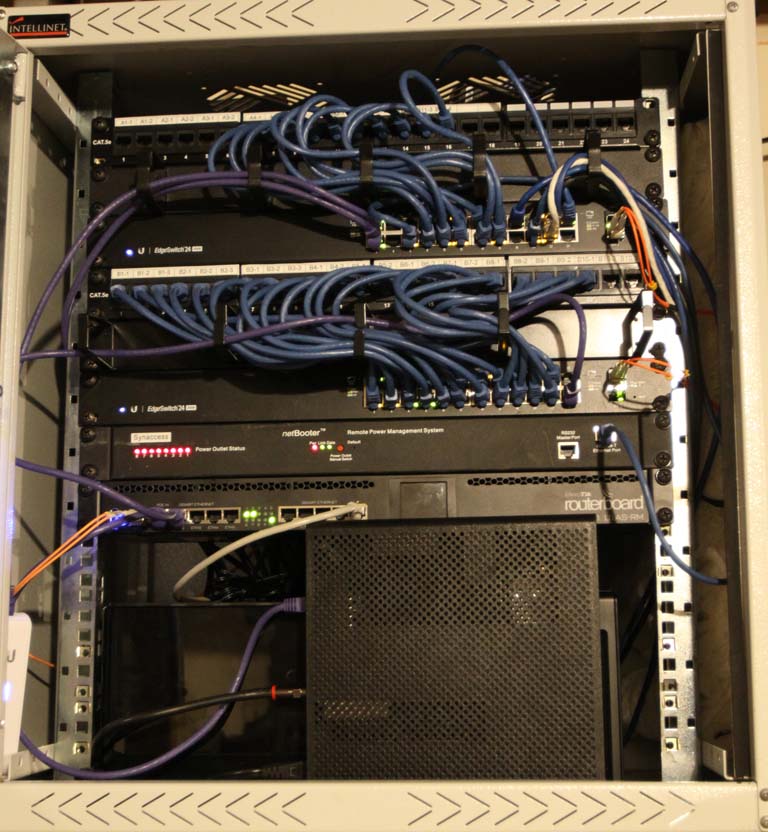 When I moved in, I finished off the basement so I had plenty of time to put in about 30 network jacks. I did my own low voltage wiring so I did what I wanted. The contractor said it was overkill and I should consider wireless!
I have moved from 100 baset to 24port Ubnt ES-24-250 POE switches. The switches are linked with fiber so I did not tie up a copper port. I also have a small switch in the garage feed with fiber.
The QNAP is acting as a NVR for the 4 cameras outside.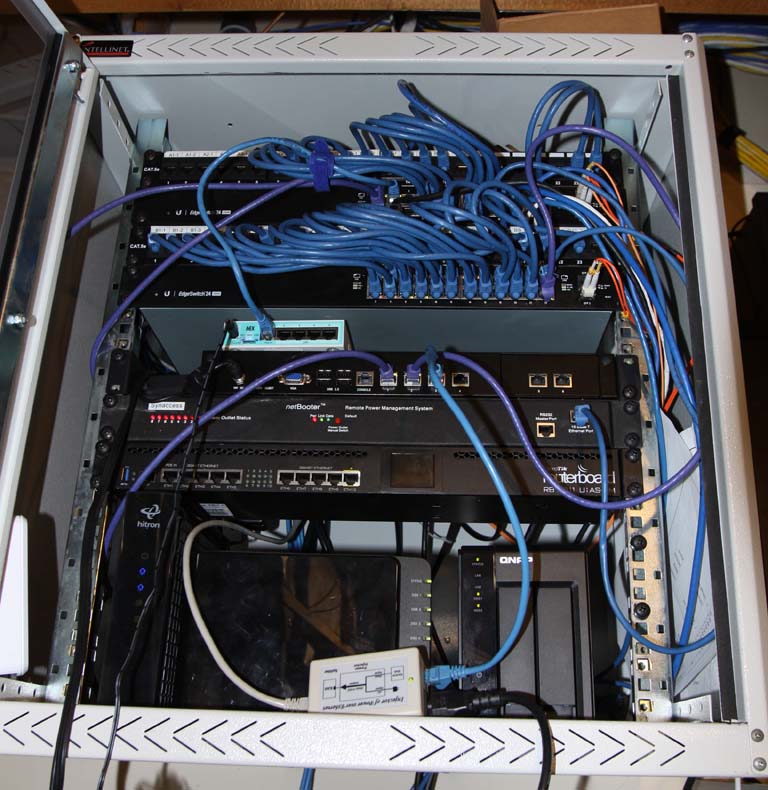 Since the first picture Spectrum upgraded my connection to 200 x 10.
I moved from the mikrotik to untangle running with a home license on the Barracuda appliance in the last couple of weeks.
Current plans are to clean up cable management, use VLANS and make the untangle connect via VPN to work. I was doing it with the mikrotik, so it will remain in the rack until I get that working.
Jerry
That looks a bit…
…confusing.
Here is mine. The patch panel is mounted outside for the rack.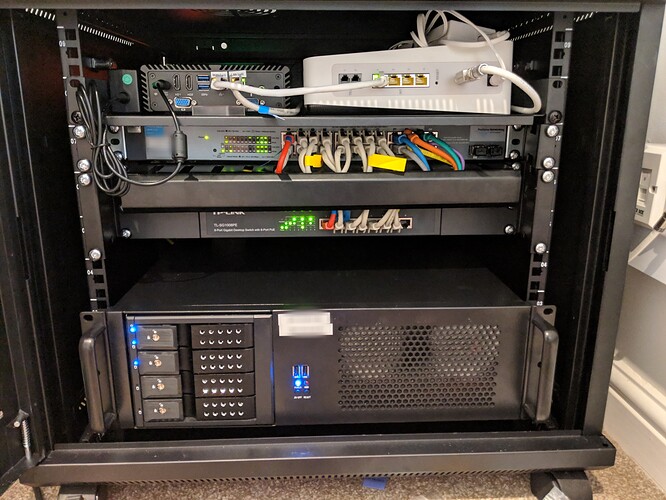 Top to bottom:
Qotum Mini PC pfsense
ISP router in modem mode (Virgin Media)
HP 1800-24g switch
Cable management
TP-Link 8 port POE non managed switch
Custom server build, Supermicro X10SLL, Intel i3, 16GB Ram, 2x 3tb WD Red (Mirrored with ZFS) running Ubuntu 16.04 with LXC containers
I bought a couple of these as I had to mount the switches further back from the rails: https://www.amazon.co.uk/StarTech-comServer-Rack-Depth-Extender-Compliant-Black/dp/B01GQ1WHCA/
I don't have a rack or anything, but I did mount my patch panel, and switch in between studs in my utility room, and it is a little bit of a tight space, but it works.
150/150 mbps Internet connection over fiber
pfSense Box (not shown) running in the room adjacent
Unifi US-8 Managed Switch
Unifi AC-Lite Access Point (not shown)
Linksys 24 port 1gb switch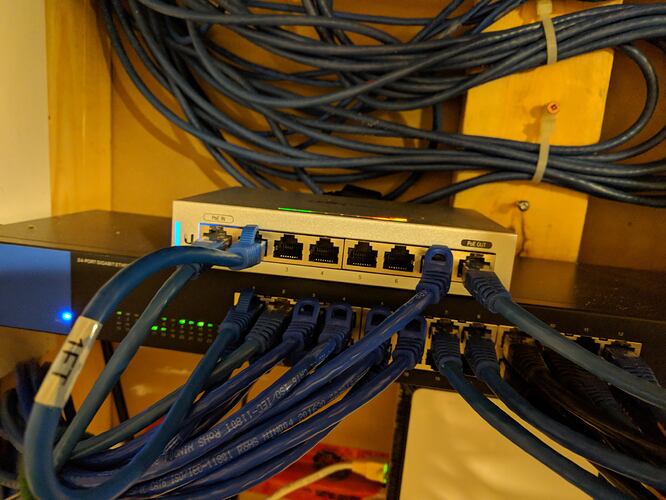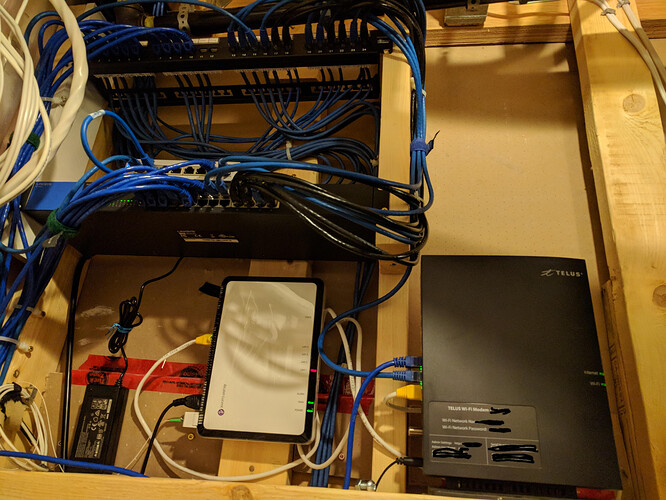 What are you using the Unifi US-8 switch for?
To be honest not a whole lot, mostly just tinkering and learning. Which is why the 8 port has served mostly fine for now.
However the PoE port is powering my AC-Lite AP, and I have my Smart TV on a separate vlan which is isolated from my main network.
I am going to get two of those too, just because I am lazy

My switch got an UPS, so even if the power goes out, the entire network and cameras will still be running, and because the switches can be powered by POE, they will remain online too.

Yeah I'm going to clean it up, one of these days:)
I don't currently have a real home network. I'm currently renting a cabin across the field from my dad's house, so I send Internet from his house to mine through Ubiquiti Antennas. I am hoping in 2-3 years to build a house and do an entire wired network, with cameras and such. But my Business is my priority.
I'm glad you sprung for the low radiation monitor lol
Here a photo of my set up.
Router and modem at the top followed by a 24 port patch panel. A cable management slot and an 8 port gigabit POE switch. I also have some 5V DC Noctua fans as intake; another in the rear exhausting hot air into the attic space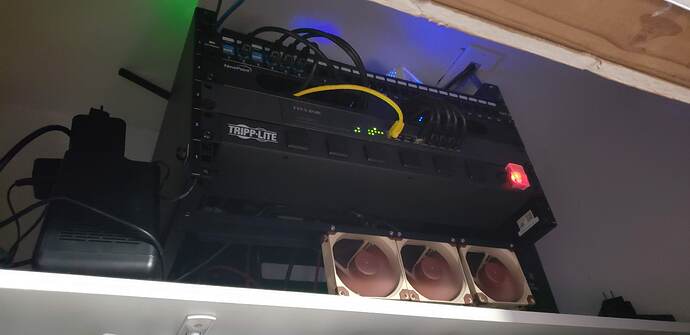 LABELS! You maniac, actually documenting stuff!
How is your luck getting them off again? Every time I use labels, I cant get the bottom part off again. When I try to remove them, I pull the top plastic layer off, but the glue part is some strange dry not sticky stuff, and I havent found anything that will actually remove it, without damaging the surface it is on.