I'm running pfSense 21.05.1 on both firewalls with wireguard package version 0.1.3.1
I'm completely new to wireguard and have been trying to decipher the wireguard documentation and both Tom's and Christian McDonald's videos. There's just enough changed in the current versions of everything that I'm getting stumped.
So here's what I've currently got setup: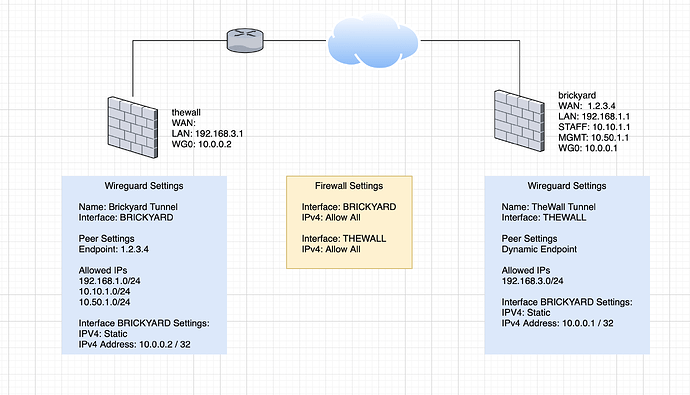 When I check the status of the peers in the Wireguard interface, it's showing successful active handshakes. However, traffic is not being routed between the two interfaces.
Christian has a pretty detailed video regarding failover using two wireguard connections, which I used to give me the tip to put the interface address in. This is different than Tom's videos which were with an older version of the package which didn't yet separate out the interface address from the wireguard setup.
Also, Tom never setup gateways or routing, but Christian does. I think this is likely only needed because he's routing internet traffic through it, but I'm not 100% sure. I've tried both ways, but neither worked.
Hopefully, my mistake will be obvious in the diagram. Assistance is appreciated!