Hello everyone,
There is an existing network 192.168.2.0 with a home router. This home router can do only port forward. i have no priviledge to change anything, but i can use pfsense firewall on LAN site if helps, and also use port forwarding on the home router if helps.
The remote network is 192.168.3.0 and is already pfsense and i have full control with static public IP.
So i have manage to do a site to site Wireguard following the video of Mr. Tom.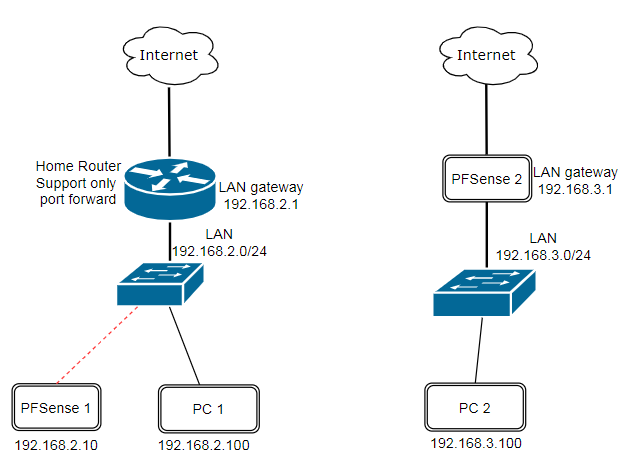 PFSense 1 can ping pfSense 2 and PC2 over the tunnel. The problem is that i can't access PC1. This device is not aware of the tunnel of VPN, and also knows that the gateway is the existing router. I can understand the problem, but i can't see any solution.
Any suggestions ? Is this possible without messing the existing Lan 2 ?
How i can possibly route the traffic i need, through the pfsense on LAN2 with the IP 192.168.2.10 ? This way all the clients on LAN2 will respond to the same network with no problem.
Thanks for any comments.