Hello.
I'm a new user of xen. I would like to try it with the will to run a physical installation of Windows 10 and to make the passthrough of my graphic card,the geforce RTX 2080 ti. The first thing that I did has been to install the script located in the repository that I've found reading from this web site :
he says : "Therefore I would like to give you a little tip how to install Xen Orchestra – with [all features of the Enterprice and Premium Edition]".
I'm a newbie and an hobbyst,it would be wonderful to try all the features available without to pay all the money requested. I can't afford that big amount of money and the days given to me by the trial aren't enough nor appropriate for my situation. I was lucky to see all the features unlocked,but it didn't happen,as u can see below :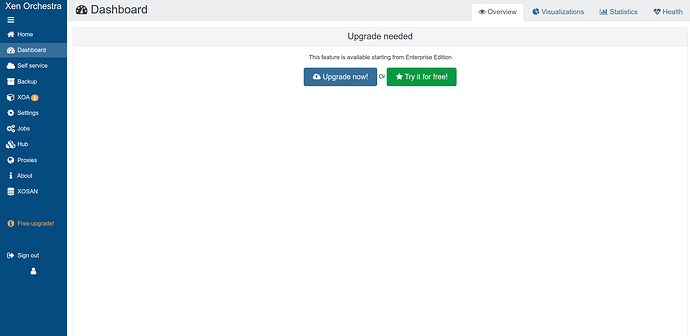 so,it should be exactly like this or I'm doing some mistake somewhere ? take also in consideration that I tried another script located in this repo :
where he says : "Installation is done using latest xo-server and xo-web sources by default. With this method Xen-Orchestra has all features unlocked which are normally available only with monthly fee"
again,it seems not true for me. It is open source,so I should have all the features unloacked,why I don't see them ? Not even the dashboard I can use.
basically I ran the script of jarli01 on the client computer and then,on the same computer,I opened the web address of the xcp-ng server (that it runs on another,powerful computer),something like 192.168.1.6 and then I click on xen orchestra on the left,I add all the credentials and I click on "quick deploy" and what I see is the web interface of xen orchestra but with the missing features.