Hello,
I'm trying to improve my home network and would like to use VLANs for isolation. I've been watching a lot of videos and reading articles and I'm ready to get some kit, but I'm still a bit confused over what exactly I need for the box labelled ??? in the diagram.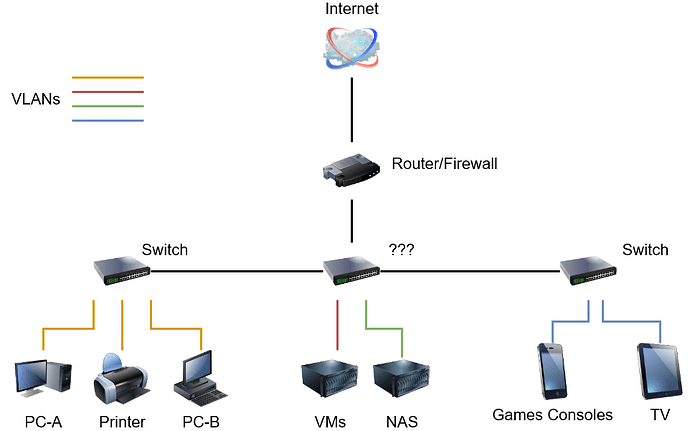 The black lines are trunk, and the coloured lines individual VLANs. The issue is that I would like to enable only PC-A and TV to access the NAS, ideally with all switching on the ??? box, but I don't want to lose wirespeed if possible.
I believe I may be able to use the EdgeSwitch ES-8-150 for example to have inter-vlan switching with ACLs to achieve this: https://help.ui.com/hc/en-us/articles/115010927367-EdgeSwitch-Limiting-Inter-VLAN-Routing-with-Access-Lists
Am I correct in my thinking here ? If so, are there any other similar switches that could achieve this ?
If I'm wrong above, how can this be achieved or is the only solution to run the VLANs all the way back to the router (likely pfsense - not 100% decided yet) and handle the ACLs there ?
EDIT: The other switches are also undecided but I would likely buy from the same ecosystem wherever possible.
Thanks.