Hello,
My pfSense router (192.168.1.1) has a VLAN rules configured as below: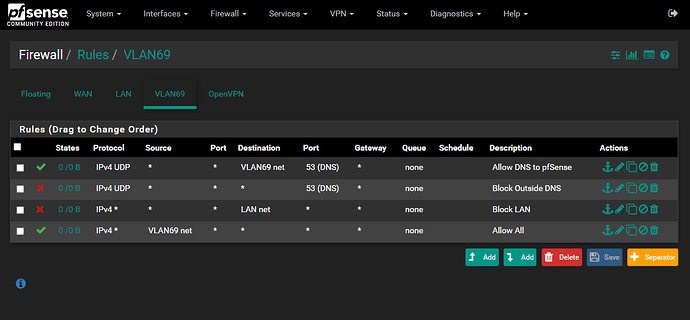 I've gone into my managed TP-Link TL-SG3424P switch (192.168.1.254) and configured port 10 to use the VLAN69 ID:

Now, I have DHCP enabled on this VLAN starting @ 192.168.69.100 ending in 192.168.69.200. When I connect a cable to port 10 on the switch, I don't get any ip address at all. Just an APIPA address.
I followed Tom's how to setup a VLAN in pfSense video and it seems all I have to do is connect a cable to port 10 and it will get assigned an IP for my VLAN, but it's not working and I don't know why.
Any ideas?