I've installed pfsense on a NUC, and am using a "smart" Netgear XS512EM. Currently my pfsense install is rather basic. I've created my VLANs, and just copied the default "allow all rules" from the LAN over to all my VLANs. I've also installed pfblockerng and apcupsd, both of which are functioning.
I feel like I'm pretty close on my setup, but I'm missing something. When I try and "activate" the VLANs on my switch by changing the PVIDs I end up losing access to the switch, firewall, or internet. Sometimes with a VLAN working though. I feel like it's the switch configuration that's messing me up currently.
Below is my switch config for the VLANs. I'm really not clear on the ports 1, 2, and 3. 1 is the Firewall. 2 and 3 are wireless access points (these access points have multiple VLANs on them) I believe this means 1,2,3 should be marked as tagged or trunks? I just realized looking at this image, I didn't add the firewall back to every VLAN (I had to reset the switch, I believe it should be in every VLAN?).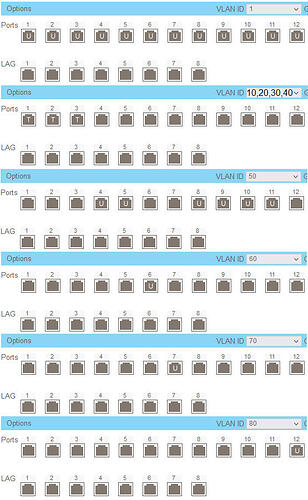 The PVID's are what really throw me. I can only assign a single PVID to a port. So does the firewall and access points just remain in VLAN 1 (default)?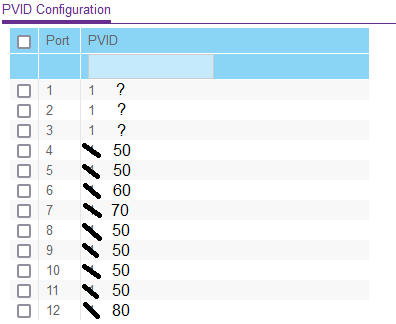 I have images of my pfsense config, and Unifi ap vlan config uploaded as well, if anyone things those could hold clues as to what's going on. In pfsense, I have those interfaces active, and DHCP on. The APs are assigned to specific SSIDs as well. Doesn't mean I haven't overlooked something though.