Hi all,
I'm sorry if this is the wrong category for this topic. I'm currently trying to figure out pfsense to create a firewall for a small enterprise. I have installed and configured pfsense to a spare PC with an i5 CPU and did some connections that I'm not sure about. Please find my setup below: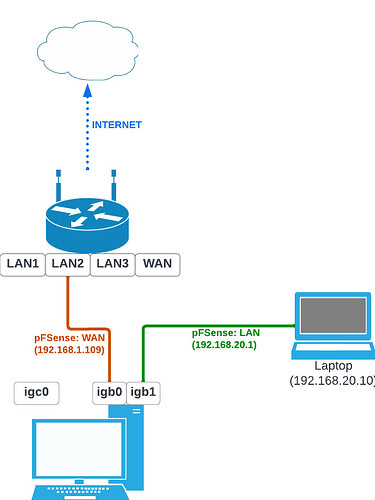 igc0 is the erhernet port on the motherboard and igb0/igb1 ports are from an additional PCIe NIC.
So far, I'm able to connect to the internet using the laptop and get real time traffic metrics on the pfsense dashboard. However, I have two use cases I was not able to implement yet.
User (local IP) based network logging and filtering.
Wireless access
Is this setup correct for the above use cases? How do I do the logging based on every user in the subnet? How can I setup WiFi connection within this setup?
I have tried pfBlockerNG-devel (v3) and SquidGuard but even though I create rules for youtube, facebook etc on SquidGuard, I can still access those websites using the laptop. What should I do to prevent access to some website? Any help is appreciated. Thanks in advance.