Greetings all,
I wonder if any of you had a similar issue?
I recently purchased two UniFi Switches. The 48 port and a 24 port. Both are non PoE.
After setting up the 48 port on my test bench I noticed it was pretty hot to the touch, fans not running. I looked in the UniFi controller and the switch was between 62-67 C , which indeed seemed pretty hot! I read into the issue on the UniFi forums and it looks like there was a great deal of posts about this issue. A colleague has many of these deployed (although most of his are PoE) and they were running about the same temp. I did note that very few in the forums spoke about creating an RMA for the issue. During my search I found some commands to check the sensors (in the 48 port there are 4) to see what the reading were. They read the same. So I figured for science I should like to check. I got a heat gun and measured the top of the chassis in several places. It read 28 or 32 C with the most of 38 C reading during a provisioning. Granted, it is probably hotter inside on the PCB. However, the chassis is metal so much of the heat is dissipated from the interior.
I also found a command to turn the fans on. That command apparently was disabled in a firmware update. One would presume it was for good reason. Ubiquiti seem fairly mute on the subject.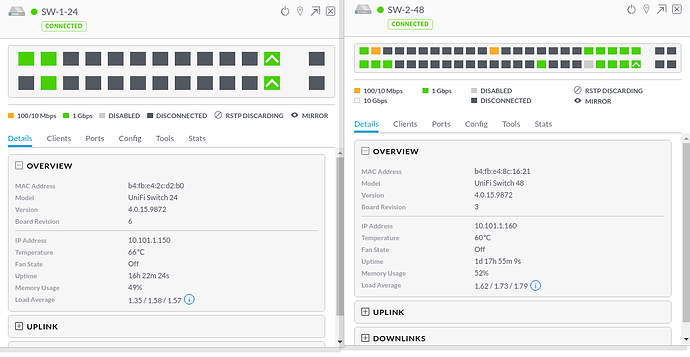 Switch Temps


Spec Sheet
Have any of you guys seen the temps this hot? I can only assume that the thermistors on the PCB are faulty and ubquiti just set the threshold for the fan cut on, to some high number like 75 C ?
I am not terribly alarmed but I figured many of you might have these deployed and could comment? This is my first use of this product line. I have used Cisco, Netgear, HP, Dell, and TP-Link. I am really loving the Web UI UniFi controller for these switches. I feel like I am living in the 21st century or something.

Cheers