As the title says, I am trying to update my Dell R210 II. It's bios is 2.0.5, which is very outdated, and I am trying to bring it up to 2.10.0, which is the current version.
Along that I am also trying to get everything else updated, because I am having some fan issues. When idle the fans spin around 3300 rpm, which is fine, and under load they spin up to around 4500-6000 rpm, which is also fine… The problem is, if the temperature gets above 65c, the fans throttle down to 3300 rpm again, and there they just stay. I have tried to let it run with the load on for a while, while closely monitoring it. With the cpu at 95c, the fans were stilling only doing 3300 rpm, and I terminated the application.
So now I am trying to update everything, in the hope some of it will involve the software controlling the fans.
In bios I have set the fans to "Maximum performance", and only allowing the OS to control processor settings. I have also tried all other combinations of OS and maximum performance there is, nothing changes.
To update I have tried to boot into Windows PE, and use Dell's bios updater for windows, when I click install it does a quick blink and then claims to be done.
I have also tried to make a iso with Dell EMC Repository Manager, where it also installs and ends up with needing a restart to apply the update. As you probably guessed, none of those worked. They dont show any errors, and just asks for a reboot. And after the reboot, the bios is still 2.0.5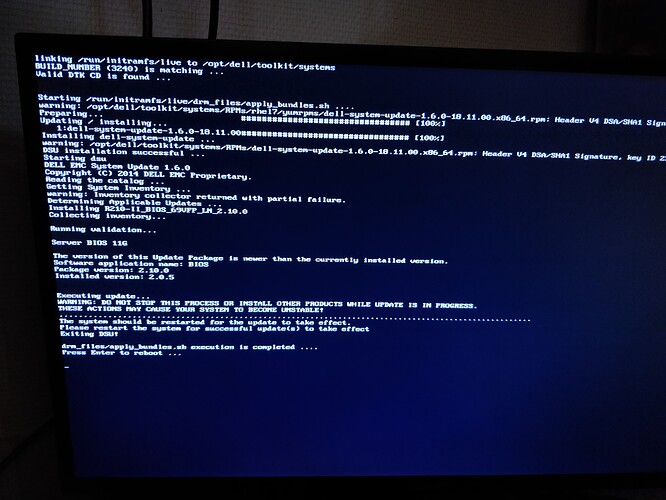 I do not have iDRAC yet, so I can't try to do it through that.

Does anyone here know what can be wrong? My next thing to try is to sacrifice my first born, but I would first have to get a child then, and I would love not having to wait 9 months.