Hi there,
im trying to up a truenas server on a vlan that is based from my lan interface with ID 5.
I have am using a netgear GS308E as my switch. (im hoping that is not my issue).
i have set the vlan to use 192.168.5.1 network.
im trying to set up my truenas server to use 192.168.2.23. my dhcp range is 192.168.5.25-192.168.5.50.
in my netgear switch I have set up the vlan settings to have port assignments for ID1: 1,2,3,5,6,7,5 and then ID5: 1,4.
port 1 is my link to my pfsense router, port 4 is what my truenas is connected to.
my truenas server has been given the dhcp address: 192.168.2.69.
i have the mac address of the truenas server set up as a static entrance on my vlan interface.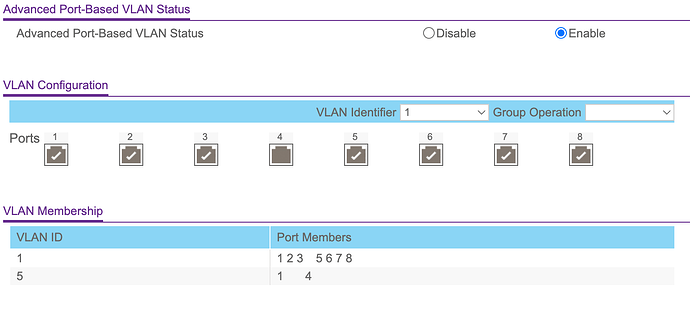 however every time i start my nas it automatically get the address from the dhcp server.
i have tried with the dhcp server enabled and disabled.
i have noticed that when i plug my laptop into the same port 4 it also get an address on the 192.168.2.1 network.
im missing something on setting up my vlan but i am lost as to what it is.
any thoughts?
any help would be much appreciated.