I have a UniFi UAP-NanoHD and I am looking to maximize performance on 5Ghz. The NanoHD is right next to my laptop for testing purposes and maxing out at around 420Mbps (using https://fast.com and AT&T Fiber ISP).
Can you recommend optimal speed settings under UniFi radio? Perhaps do a video on this topic as I suspect many others are trying to get the most performance out of the UniFi AP's?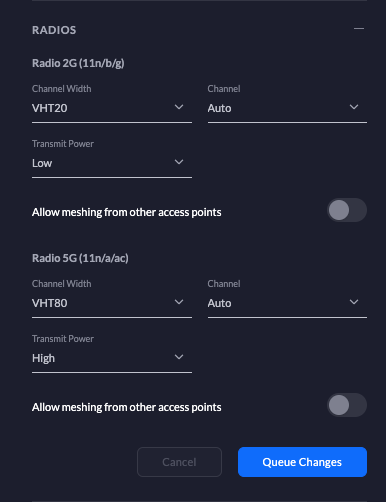 2G set channel to auto, channel width VHT20, and transmit power to low to prevent / deter 5G devices from using the slower 2G.
5G set channel to auto, channel width VHT80 (higher speeds at the cost of less distance), and transmit power to high.
Do you recommend turning on WiFi AI in UniFi settings? I guess I don't understand what this does if I am already using the auto channel setting in radios.