I finally broke down and got a TP-Link SG108E Smart Switch that allows me to create VLANs and I managed to fumble my way into successfully creating a VLAN on my network. I did this primarily to put all my IoT devices on, but what I'm trying to first resolve is the inability to reach a webserver that I sat on my VLAN which is ran on a Raspberry Pi.
Currently, I have a Private LAN of 192.168.1.1. The VLAN I created is 192.168.69.1 with pfSense configured as the DHCP with an IP Range of 192.168.69.100 to 192.168.69.200.
Below is my Firewall Rules:

Below is my TP-Link VLAN Port Settings: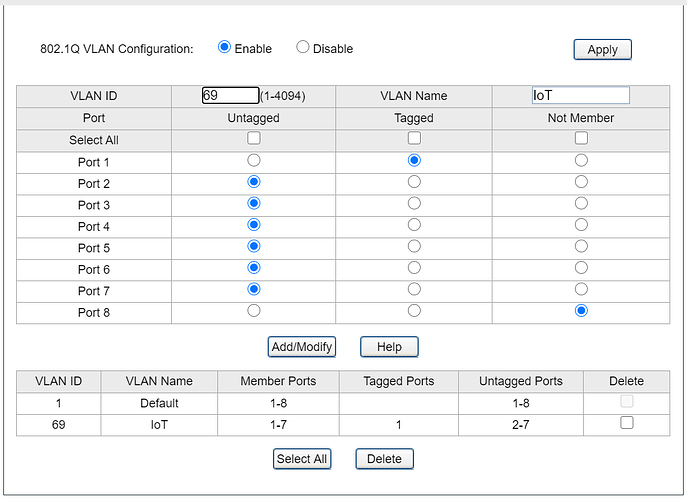 When I connect the Raspberry Pi into Port 7 on the TP-Link SG108E it successfully gives it the 192.168.69.100 ip address and I'm able to ping it from my Private LAN.
When I try to access my webserver, it doesn't load the page at all. I'm really unsure how to troubleshoot this and suspect that maybe my issue lies in Port 80 needing to be open, but am not entirely sure. Any help would be greatly appreicated!