Hello all,
I managed to get pfSense working in a VMWare hypervisor on my 2010 Mac Pro. I then followed Tom's video here: https://www.youtube.com/watch?v=b2w1Ywt081o&app=desktop to create a VLAN. I followed all steps meticulously.
Devices connected to the UniFi switch ports with "LAN" switch port profiles work great. But when I assign a "VLAN10" switch port proflile to a port on the UniFi the connected computer doesn't get an IP address.
I have made a diagram: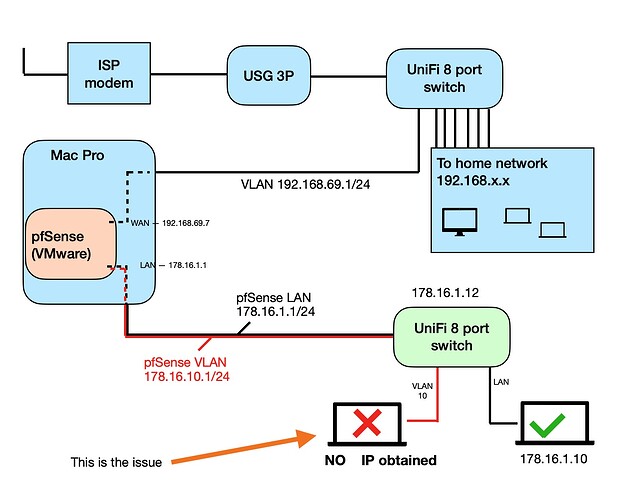 So what I did basically is create a VLAN 10 in pfSense, add it to an interface (LAN), set DHCP service and create a pass-all firewall rule.
Then in the UniFi controller I adopted the 8 port switch, created a VLAN-only network with VLAN ID 10, went to Ports -> select switch port profile VLAN10.
Then I connected a windows laptop, no IP.
Then I connected a Macbook, no IP.
Both laptops get LAN IP addresses when connected to other ports on the UniFi switch, "LAN" and "All" both work.
I double checked all settings and rewatched parts of the video a couple of times.
What am I doing wrong?
Regards, Pete