First time trying pfsense and unifi. Be nice


PfSense setup
Set up Pfsense with 1 WAN + 2 physical lan:
-Lan Private (ETH1)
-Lan Guest (ETH2)
Setup a few firewall rules to limit guest access to Private.
No need for VLANs, at least I think.
All good.
Unifi setup:
I have a unifi switch 24 ports, 2 AP pro.
I want:
Physical lan Private to feed AP pro Private network, wireless and various hard-wire devices.
Physical lan Guest to feed AP pro Guest network and guest wireless.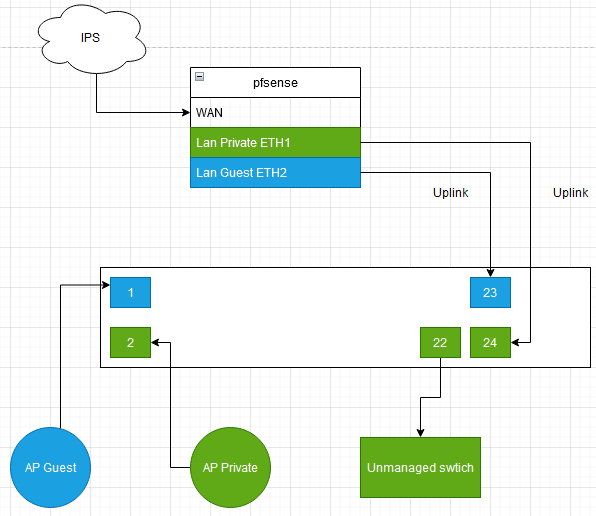 On the switch, by default the profile is set to ALL, and I can adopt both AP and everything works well.
Now into the trouble:
In the switch setting, I create a new Network, in order to group the Guest.
Create new network.
Name: Guest_Network
VLAN-only network, vlan id 51, "whatever"
Save.
In the switch, I assign port 23, port profile to Guest_network, apply change.
Then I assign port 1, port profile to Guest_Network, apply change.
and now I cry…
the AP "refreshes", adoption failed.
The AP has the correct pfsense IP but it doesn't adopt, nothing…
"adoption failed, please again. if the issue persists, we recommend factory-reseting the device"
Please Help?
Any idea? suggestion?
Tried to reset, did it again, and same over and over.
Thank you.
Xylem.