Hi,
I have the feeling that my setup isn't right…
At the head of the network, we have 2x pfsense firewall setup in HA . The firewalls have 2x sfp+ ports and 3 1G RJ45 ports
WAN – sfpplus1
LAN – sfpplus2
LAN2 – RJ45-1
pfSync – RJ45-2
Unused – RJ45-3
The LAN from firewall1 is connected to mk_switch1 and the LAN from firewall 2 is connected to mk_switch2.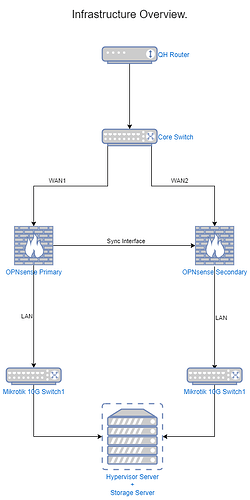 The hypervisor, storage and backup servers has 2x sfp+ interfaces and are physically connected to both Mikrotik switches (1 port per switch). At the software level, we setup the 2 ports as a bonded interface using the LACP protocol and we setup the mikrotik port interfaces across both switches using MLAG.
I cannot help but think that something is wrong but I cannot figure out what yet…


Do I need to swap the wan/lan interface so i have 2x sfp+ in lag in firewall and then every firewall has 1 lan port in each swith?