Hi all,
I'm setting up network between 3 physical locations. All of them are using pfSense as main router with couple of servers available in each LAN. What I try to build can be captured in few points:
have remote access gateway in each location (all network traffic should be tunneled)
remote vpn to any location should give access to servers from all 3 networks
any location going offline should not affect operations of rest of the network
each server has it's DNS name defined in router in location where it's hosted
Simplified diagram: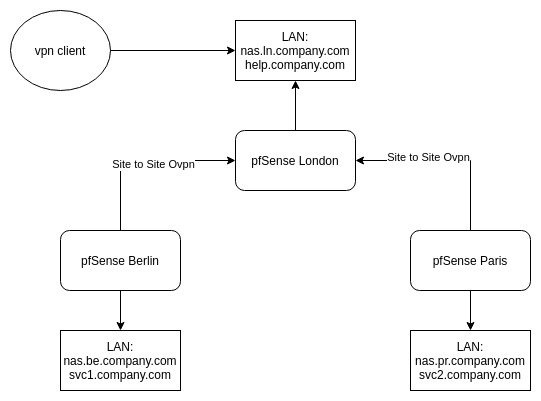 Where I am at the moment:
2 locations online (london, berlin)
site-to-site openvpn between them (servers in both LANs can see each other)
openvpn remote access to both (client can access only LAN of location it's connection to)
I hope this description is not to convoluted

I'm not really attached to openvpn so if you guys have better ideas I'm open to suggestions.