I have a Netgate XG-7100 on 2.4.4-RELEASE-p3 with about 12-15 users connecting. Some some of them have a weird connection issue. They try to connect, but never get the "Successfully Connected" pop up & just have a yellow connection icon. In the pfSense dashboard I do see them as connected.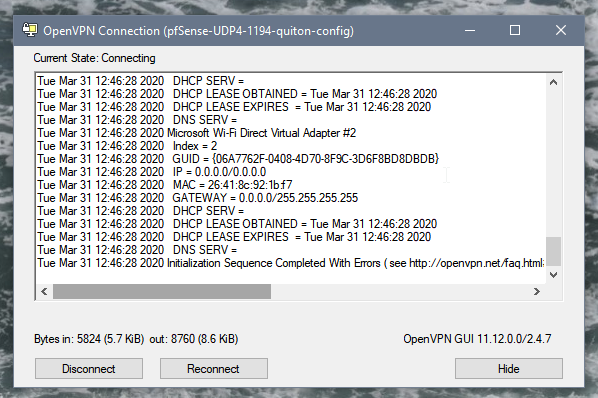 Here's the error it shows:
Tue Mar 31 12:46:28 2020 Initialization Sequence Completed With Errors ( see http://openvpn.net/faq.html#dhcpclientserv )
However if they do an uninstall & reinstall of the same client .exe installer it works perfectly fine on the second installation. The DHCP Client doesn't seem to the the issues, since re-installing fixes it.
I noticed my OpenVPN Client Export tool was out of date. I'm on 1.4.18_4 & 1.4.20 is out. If I update it, will it break all of the existing clients? And will I need to re-deploy to everyone?