I was looking for a way to implement bandwidth monitoring on my pfsense. I was watching Lawrence's video "How to Configure Traffic Monitoring with ntopng on pfsense" Things were going fine until I tried to access the interface on port 3000 and nothing was working.
Next was to dig more and see what the issue might be, I found the ntopng service stopped, I started it and less than a minutes later it stopped.
So from running ntopng from shell I am getting below
06/Mar/2022 09:43:14 [Ntop.cpp:2493] Setting local networks to 127.0.0.0/8,fe80::/10
06/Mar/2022 09:43:14 [Redis.cpp:99] ERROR: Connection error [Can't assign requested address]
06/Mar/2022 09:43:30 [Redis.cpp:148] ERROR: ntopng requires redis server to be up and running
06/Mar/2022 09:43:30 [Redis.cpp:149] ERROR: Please start it and try again or use -r
06/Mar/2022 09:43:30 [Redis.cpp:150] ERROR: to specify a redis server other than the default
I did some Googling to find possible solutions, I didn't find anything that helped fix my problem. I did some reading on radis from package link FreshPorts -- databases/redis: Persistent key-value database with built-in net interface
I did add this redis_enable="YES" in /etc/rc.conf.
Power cycled PfSense and having issues.
I did run redis-server manually from shell by using command redis-sever then I started ntopng and it stopped after a minute or so.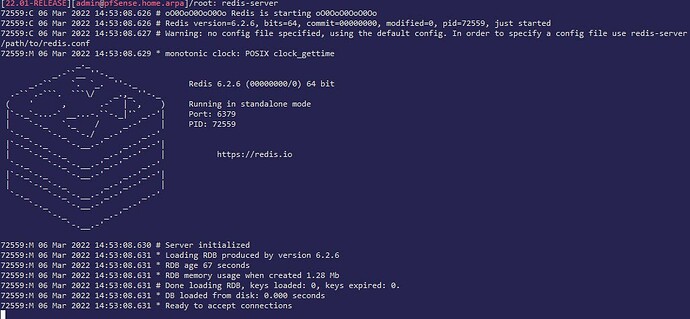 I didn't play around with redis config and didn't create any other specific config for it to run with ntopng as I am not sure what it needs exactly. The config path is /usr/local/etc/redis.conf
In the whole process, I did remove the package and re-install it, power cycled PfSense multiple times and still getting same problems nd not sure what to do. Any help would be much appreciated!