I am currently trying to make my network fit for IPv6. Since my ISP only supports IPv4 (

I know, right?), I enabled the 6to4 tunneling on my WAN interface in pfSense. On my LAN interface, I set IPv6 configuration to "track" with an IPv6 prefix id of 1 (I figured that this is arbitrary). I enabled router advertisements on the LAN interface. When the router mode is set to "Unmanaged", clients (a Windows 10 machine and a clean OPNsense install) get IP addresses via SLAAC as expected and can access the internet, with no DHCP involved.
However, when I set the router mode to "Managed" and enable the DHCPv6 server, clients do not get IP addresses. My understanding is that now, upon receiving a "router advertisement" packet, clients detect that the "Managed address configuration" flag is set and start the DHCPv6 routine by sending a "Solicit" packet. The screenshot of the packet capture below shows these packets.
What it doesn't show though is the expected "DHCP advertisemtent" packet that the server is supposed to send. Does anyone have an idea what could be going on?

fe80::1:1 is the link-local address of the pfSense machine, fe80::e00d:8b1d:a9ae:8397 is the link-local address of my Windows client machine.
Here are screenshots of the relevant configuration: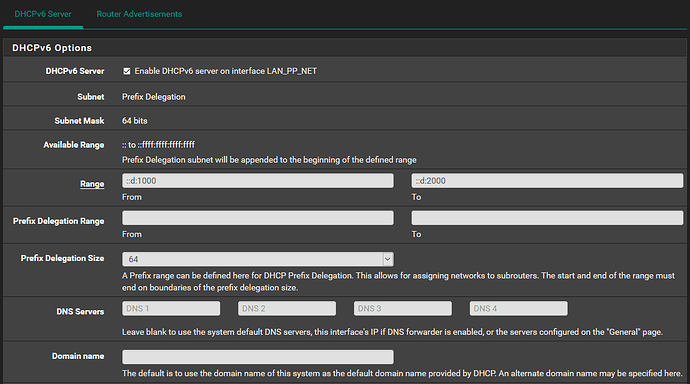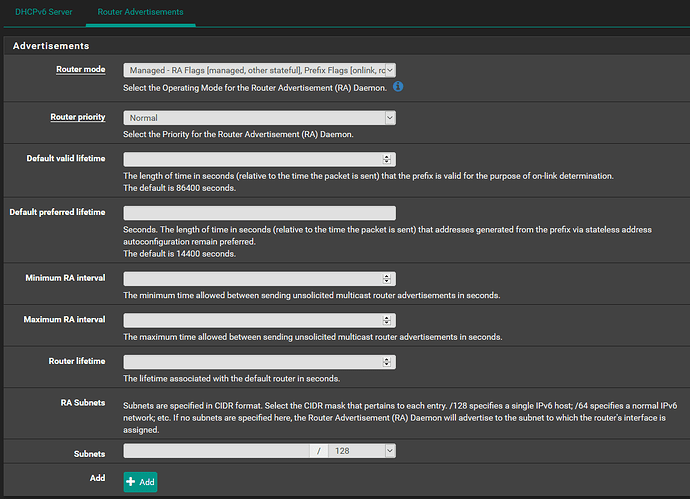 Options not shown are at default.
EDIT: There is also a rule on the LAN interface that allows IPv6 access to the firewall.