Hello everyone,
I have a NAS Synology DS918+ that hosts calendar on port 5006 and some other things behind a pfsense 2.4.5 box connected to 2 WAN from 2 diff providers with each a fixed public IP. A FQDN corresponds to each public IP.
Each internet connexion has its own modem with public IP and NATs to the pfsense box. Load balancing is set on pfsense as well as fail over.
So Internet Modem1 is 8.X.X.X, nats to 192.168.6.1, then pfsense box has a WAN1 192.168.6.2 with a gtw 192.168.6.1
Internet modem 2 is public IP 15.x.x.x, nats to 192.168.5.1, then pfsense box has a WAN2 192.168.5.2 with a gtw 192.168.5.1.
LAN is 192.168.20.1/24
All works fine, no problem there but I created a rule to allow all to the NAS for port 5006 allowing me to synchronise my agenda with phones, etc from the outside. So calendar on phone is set to https://mydomain.fr:5006/web/calendar/etc.../
For some reason, pfsense blocks my public IP on WAN1 and port 5006 when I try and synchronise my calendar from outside.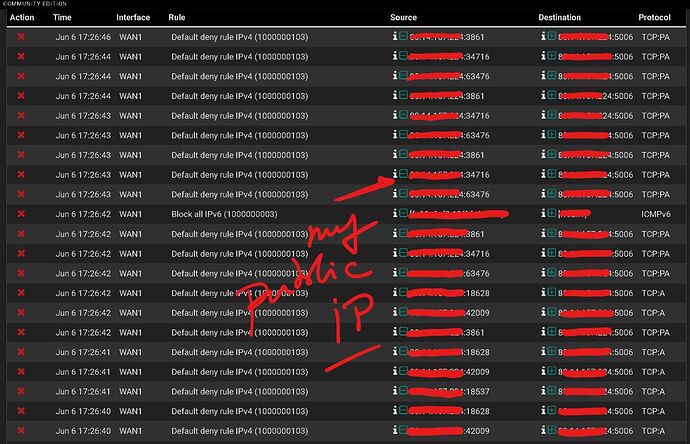 I don't understand why. Can someone explain what I am doing wrong?
Thank you for your help.