I'm running a pfSense on very beefy hardware. I have recent transitioned over to pfBlockerNG from a Pi-hole. I noticed my name resolution seemed noticeably slower. I found DNS Benchmark from Gibson Research and ran a test against my still in place Pi-hole (nothing points to it but the Benchmark) and my pfBlockerNG.
In the benchmark you can see that the .1 has much slow DNS return on non-cached queries. The Pi-hole is much faster and you can see it's only slightly slow their going directly to some of the big resolvers.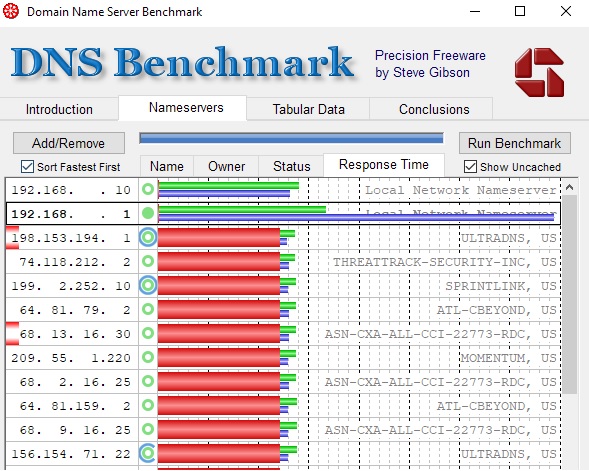 One of the main reasons for this is that due to the country I live (temporary) in I have all of my traffic run over a VPN to come out near my permanent residence in the US. I have followed some guides for all traffic to go over a VPN Gateway Group, everything is tagged and if it tried to go out any other interface it gets dropped.
The Pi-hole fits into the that model easy because it's just another IP in my network and come in a LAN interface.
I think pfBlockerNG does not follow this model because it's being sourced as the pfsense. I have the DNS Resolver setup as a Forwarder that way pfBlockerNG still works and it's a little faster because I'll use a big resolver like 1.1.1.1 or 8.8.8.8. To try and force all traffic from the DNS Resolver / pfBlockerNG to go through the VPN, I have the Outgoing network Interfaces set to the 3 VPN Interfaces that make up the Gateway Group (GG wasn't an option). To prevent async-routing or other issues, only one VPN is enabled at a time. I have a work, and two home VPNs that are needed at different times so I figured a Gateway Group would be easiest to not change the main rule for each vlan each time I need to switch VPNs.
pfSense General Setup, has 1.1.1.1 and 8.8.8.8 with disable DNS Fowarder. The thought behind this was to remove the chicken and egg issue. DNS Resolver must go through the VPN or be dropped, VPN requires DNS name resolution to build the tunnel…

It sounds more complicated than it is. Everything seems to work fine but my DNS resolution is noticeably slower than a pi-hole.
I'm happy to throw up more configs to help troubleshooting.