I just watched the last YouTube video about Packet Loss and Latency Monitoring with pfSense and want to make sure I am measuring the right thing.
I have synchronous 1 Gigabit AT&T Fiber Internet at my house. The fiber that comes to my house runs between what I believe is a passive optical splitter that is situated in an underground box a few houses away. It comes to my house and plugs into a small box that plugs into my home's power and has an Ethernet cable coming out of it. Unfortunately, I am told that I cannot plug that straight into my pfSense router but unfortunately have to plug it into an AT&T-provided "modem", which has been bridged to my pfSense machine. The AT&T modem and pfSense box are next to each other on a shelf in my computer rack and connected with a 1-foot Ethernet cable.
I am not sure how I found the particular IP address I put as my "IP Monitor" for my Gateway in pfSense, but if I do a traceroute to that IP address, I see my gateway as the first hop and the address I have entered as "IP Monitor" as the second hop. I am not sure if this "IP Monitor" is before or after it has gone from copper to fiber. If I try to traceroute to anywhere else, the second hop always shows "* * *".
I was following along with Tom as he went into Monitoring quality and created several different views… 1-Day, 1-Week, 30-Days, 3-Months, and 1-Year. By looking at the year, I believe I must have changed from the older pfSense CE to pfSense+ on a ZFS filesystem on February 25th of this year, as that is the first I have any information.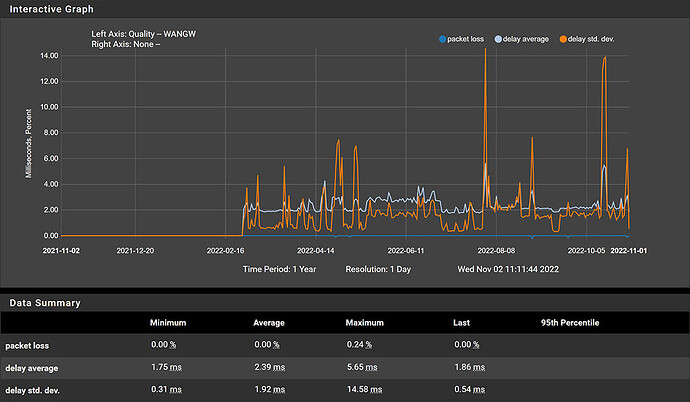 I see that there is very little packet loss for me, but it appears that there have been a few occasions. Looking at the past month, I see some delays, including a several-day period of delays between October 14th and October 17th.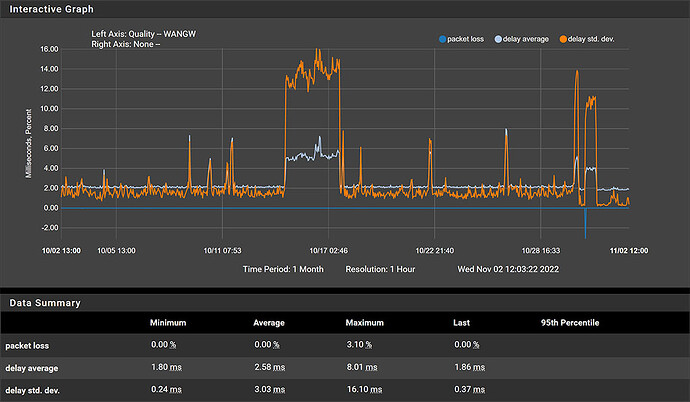 From that monthly view, I saw a drop in packets, but that was in the past week, so here is the past week: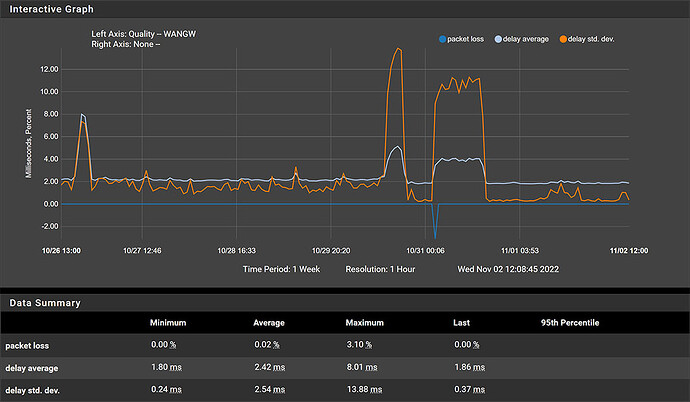 Apparently, on October 31st at 3:00, there was a drop in packets, followed by a short bit of increased delay averages.
Any ideas as to what may be causing this? I'm not complaining about my service, just curious and want to know what I might do to better understand what is happening.