We're looking to setup an outdoor performance using the Listen Everywhere streaming gear - broadcasting the audio from the band directly into the ears of the audience via an app on their phones.
Specs:
Up to 200 people per performance, seated in the hatched area pictures
125kbps for audio streaming (from the Listen Everywhere manual)
Streaming server can support up to 1000 connections
No internet connection required for this system
Outdoor on the grass; minimal obstructions (occasional light pole, probably where the access points are attached)
Grass area is roughly 45m wide, 30m deep, and on a hill with a total incline of approximately 9m. Audience are evenly spaced across this area.
Each patron to supply their own device with the app already installed (Android 4 or iOS 12 minimum), thus devices should be 802.11g compatible at a minimum, with the bulk being 802.11n or ac.
There's a bit of space between the audience area and any other wireless access points out of our control (but will do scans of the area when we get access to look at appropriate channel distribution).
Possibility for a significant number of bluetooth headphones.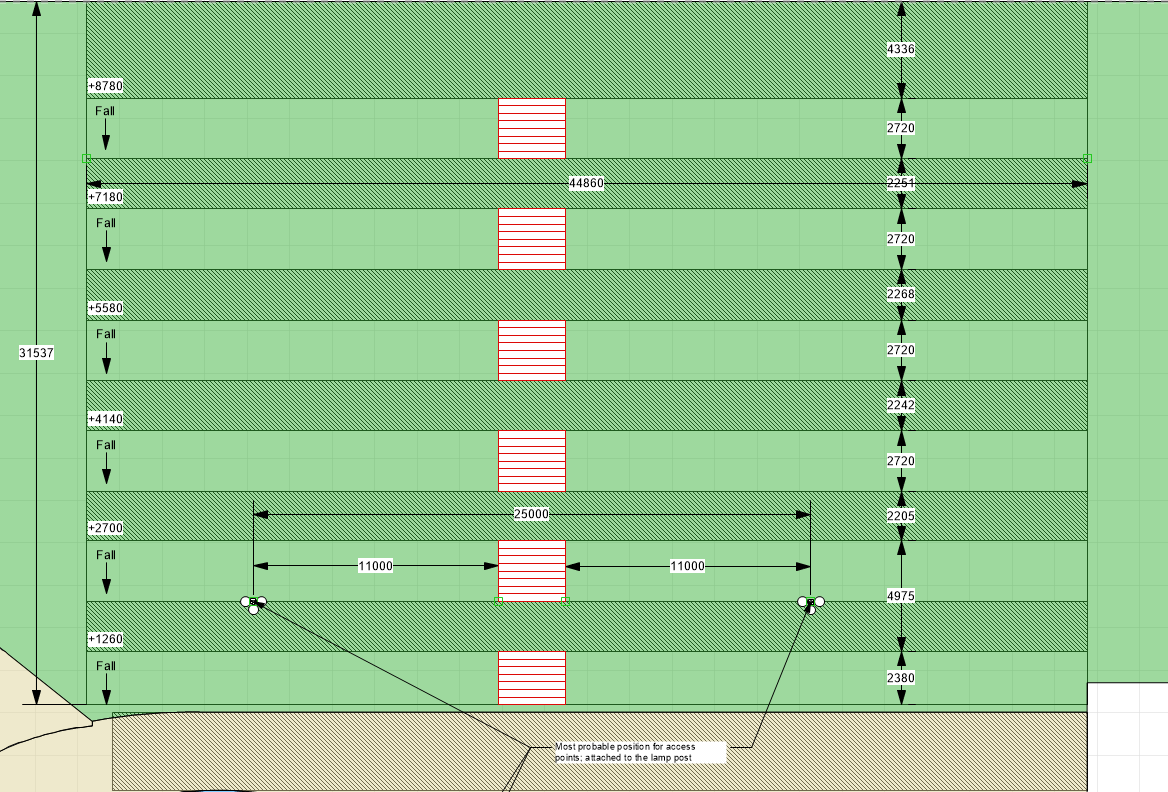 Currently thinking 4-5x UAP-AC-M (though have been told the Pro model would be better suited) spaced evenly around the area: two pictured, attached to pre-existing light pole, two more to be situated in a similar position from the top, though possible to put them on different stands that can be placed elsewhere. We'd also be putting some other gear on the network for use while setting up, but won't be using the network once the show starts, and will primarily be wired connections.
I have posted this on other forums to get a variety of opinions. Last thing we want to do is buy a system that may not be sufficient, because we won't get the opportunity to test it out under full capacity (which is going to be fun…).
We've not fully committed to the system, as there are questions about the practicality of relying on such a system given the primary audience are not necessarily technologically inclined, but that's a separate discussion…
Comments on this setup or things I might need to consider would be greatly appreciated.