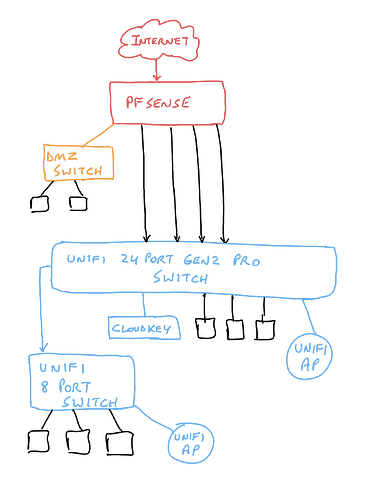 Hello,
I am building a new network as per the diagram and I have some questions if anyone has some thoughts …
Planning on multiple subnets:
WiredLan
WirelessLan
WirelessGuest
IoT
DMZ
ManagementLan
I know I could send everything over one cable from the pfSense box to the first switch, but that doesn't seem like the best approach ? The pfSense has six 1Gb ports, why not use them all rather than push everything through a single 1Gb port ? Very easy to run a few short cables to the switch …

The weight of opinion seems to suggest don't use VLAN1 for anything. The Unifi switches create a default Corporate network using VLAN1 and as I understand it there is no way to modify this. So, I intend to just ignore it, leave it set to the default 192.168.1.1 (my network will use different subnets) and don't touch it.

Should I make all 6 subnets above as VLANs (VLAN on pfSense and "vlan only" on Unifi) ?
OR
Make the WiredLAN a "real" physical network on pfSense and make a new Corporate network on the Unifi Switch for it. The other 5 networks then would then be VLANs on pfSense and "vlan only" on Unifi. Other variations worth considering ?
Grateful for any thoughts and suggestions …
BRgds/Alan