Hello, I want to "re-design" my home network with a better layout (organized, future proof, etc), because now, "the caos rules".
My house has 3 floors: basement (common part), ground (my parents apt.) and 1st floor (mine apt.).
With a total of 6 network: untagged (unifi devices & pfsense router), vlan 1 (my network), vlan 2 (parents network), vlan 4 (my iot), vlan 5 (parents' iot), vlan 6 (common iot - network camera's, etc)
Currently the pfsense it is the "center of the universe" (vlan, dhcp, dns, firewall, etc), if it crash, everything goes down.
So, to avoid that, and to reduce the router's load, the plan is to add a layer 3 switch to each floor and move the vlans management (dhcp etc) to the unifi network.
Leaving on router: firewall, dns and the other internet related services (vpn, pfblocker, etc).
Could this work? If so, is this the best solution?
Or is it better to leave everything on pfsense (since it handles the rules for the communication between vlan & internet) and set the L3s to dhcp relay?
I drawn a sketch of the network I want to create + different wiring options.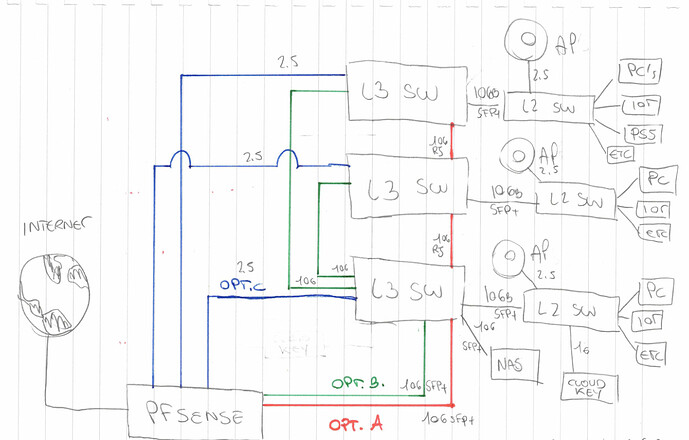 I will use the 10gb SFP+ for the communication between L3 and L2 switches as well as the communication between the basement L3 and pfsense and the nas.
Between floors will use cat6e cables always using the 10gb connection.
I think that the best option is to use A + B but I have to check if there is space for 2 cables inside of the corrugated pipes in walls, otherwise I will opt for the option A.
For the L3s I plan to use Unifi switch XG 6, for L2s the Unifi Enterprise 8 Poe so I can power the wifi6 AP (Unifi) and the secury cameras.
I know, its an infinite post, and since Eng is not my main lang I hope that it clear…
Thanks