Yesterday I needed to change the config on one of my switches (switch 1), somehow it didn't do what I wanted, so I reset to default settings and configured the switch to my needs. So now if Switch 1 is connected to the network switches 2 and 3 along with my AP no longer connect to the internet,if I disconnect switch 1 everything works as expected.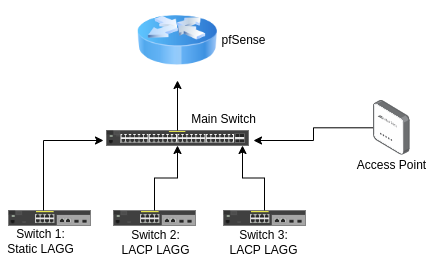 Switch 1 is a Netgear GS116Ev2 | Plus Switch | NETGEAR Support
They are all running vlans, with LAGGs back to the main switch, the only difference is that Switch 1 is a Static LAGG (prior to my changes the network was running as expected). There is clearly a conlflict, but I can't work out what it is, the switches IP isn't duplicated, it doesn't pass out DHCP …
Has anyone come across this scenario ?