Hello, I just got a new SG-1100 and UniFi AP-LR (WAP) and am trying to set up everything in pfsense and the UniFi controller but can't seem to get it to work. Specifically, I can't get the WAP to show up in the controller software when connected to the OPT port. The WAP is powered PoE through the power brick that came with it. I've created the interfaces, tagged the switch ports, set appropriate DHCP ranges and firewall rules, all according to your videos. These 4 videos in particular are most relevant to my use case:
How To Setup VLANS With pfsense & UniFI. Also how to build for firewall rules for VLANS in pfsese
How to Have One UniFi AP-AC-LR & Two WiFi Networks with pfsense, VLANS, & No Managed Switch.
Access Points and Creating WiFi VLANs Explained Using UniFi Wireless
SG-1100 VLAN Switch Configuration
I'd like to have all WIFI traffic separate from LAN traffic, and the IOT traffic separate from all the Trusted WIFI traffic. My existing setup looks like this:

And what I'd like to have is something close to this: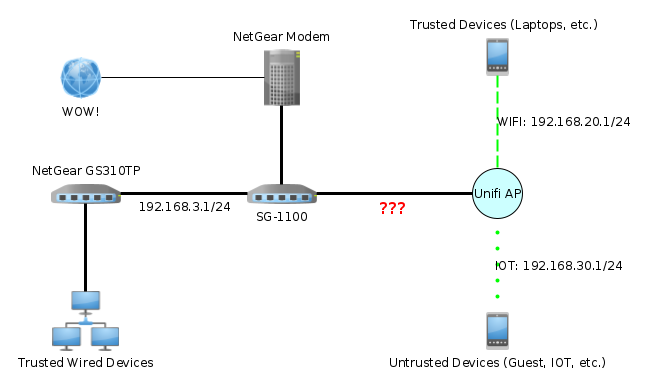 Or something better, I'm open to suggestions.
I can't take the network down completely until the new one is fully configured, so I have the SG-1100 WAN going to my NetGear LAN while I slowly migrate devices over to the new 192.168.3 network (LAN port of SG-1100).
Here are some of my current settings:

NOTE: WIFI and IOT ranges similar to LAN:
WIFI: 192.168.20.100 - 192.168.20.200
IOT: 192.168.30.100 - 192.168.30.200
The firewall rules are…

And alias (which is currently disabled while I troubleshoot):

Finally, on the UniFi settings (Wireless Networks tab):

Again, the WAP won't show up in the controller software when connected to the OPT port.
The WAP glows blue for 4 seconds and then off for about a second and then repeats.
I must be doing something wrong with the OPT port, but can't figure what.
Any Ideas?