Hey guys,
So I'm ok with networking, but I know I'm forgetting something obvious here, and its simply eluding me.
I cant get traffic to flow through one of the two "pathways" available. It works via the QSFP+/Eth0 interfaces on the hosts, but fails to ping when trying to use Eth6/Eth1 on the Synology/Hosts respectively.
My XCP-NG hosts can only see my storage server over path #1, and not both, nor #2.
Here is how things are physically setup atm: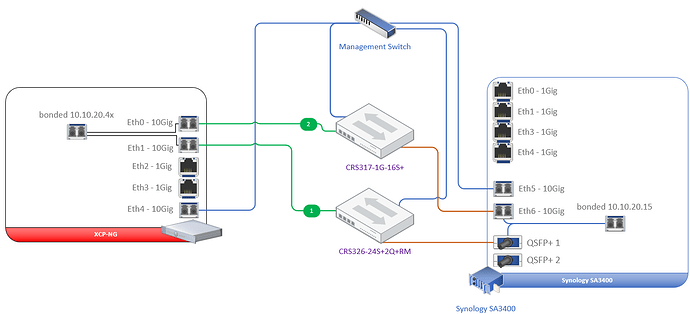 Each host has identical networking, so once I get it working on one, it should work on all.
To clarify:
Hosts:
Each XCP-NG Host has 5 total physical interfaces (0-4), 0/1 are 10Gig SFP+ (bonded, static IP 10.10.20.4x vlan 20), 2x 1Gig (not connected atm), and 1x Mellanox ConnectX-3 which is the management interface (10.10.55.x vlan 555).
Switches:
One switch is the CRS317 16port SFP+ switch, and the other is the CRS326 24port SFP+ with 2x QSFP+ interfaces (both are running SwOS, NOT routerOS). I simply dont need any routing features, only vlan tagging (and hopefully eventually MLAG when they release an update for SwOS with it).
The CRS317 is setup as: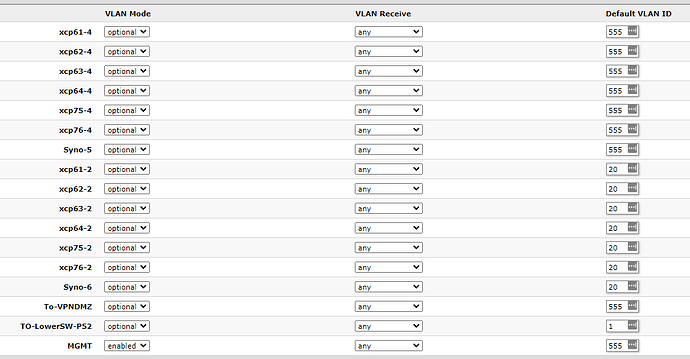 Ports 1-6 are attached to the Mellanox cards (Eth4) and are set to the management vlan (555),
Ports 8-14 are attached to Eth1 on each host (1 of 2 bonded 10Gigs),
Port 15,16 are for another switch (not in scope of this convo), and to my firewall.
On the CRS326: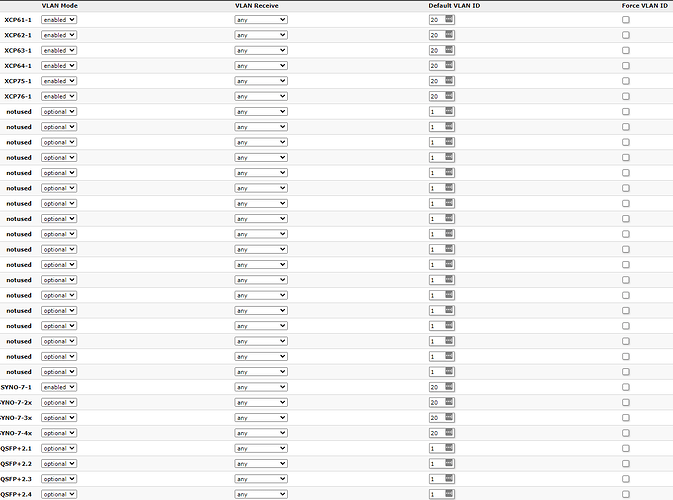 Ports 1-6 are again connected to Eth0 on each host again to vlan 20, and the the QSFP+ 1-4 (labeled Syno-7-1-4 to correspond to the Eth7 in Synology's network interface).
Currently no other ports are used on this switch.
Storage:
My Synology nas has two native 10Gig interfaces, and has a compatible dual QSFP+ card installed. I have a QSFP DAC connecting interface Synology to QSFP+ Port 1 on the CRS326. My Synology has both interfaces bonded with (currently) 802.11ad LACP Balance-TCP. Which, based on this doc (here) This should work, without requiring any special switch config.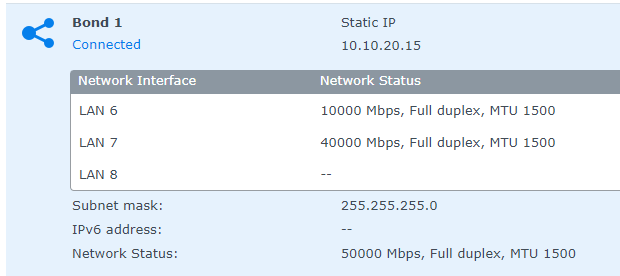 On the synology it shows as both interfaces connected.
I'm stumped as to why I can only get traffic to work over one of the pathways. Any help is appreciated here.