Hi all IT enthusiasts!
As another IT enthusiast, I have a Mesh networking problem, where I could not give the DHCP authority to my newly installed Firewall micro Appliance with OpnSense and Zenarmor, because on new firmwares of Xiaomi AIoT Router AX3600, there is a limitation for the DHCP settings.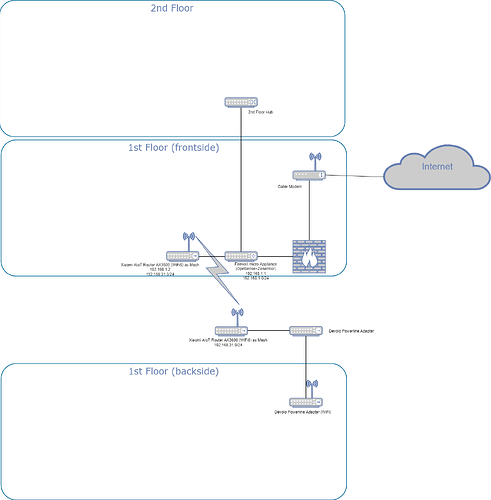 Here is my total network structure.
Would you recommend me to disable DHCP on Xiaomi AIoT Router AX3600 devices interface and possibly connect WAN cable to LAN. Also, adding another cable from Firewall micro Appliance to Xiaomi AIoT Router AX3600 through WAN, similarly as stated here: How to Setup Xiaomi Router AP Mode and Mesh Network | Wi-Fi 6 Repeater - YouTube
Another alternative could be replacing those two Xiaomi AIoT Router AX3600 devices with the two pair of Ubiquiti UniFi 6 Pro Access Points (U6-Pro Wi-Fi 6) with one Ubiquiti USG Network / Router (3 Gigabit Ethernet Ports, UniFi Controller, which I'm not certain of similar limitations.
Could you please help?