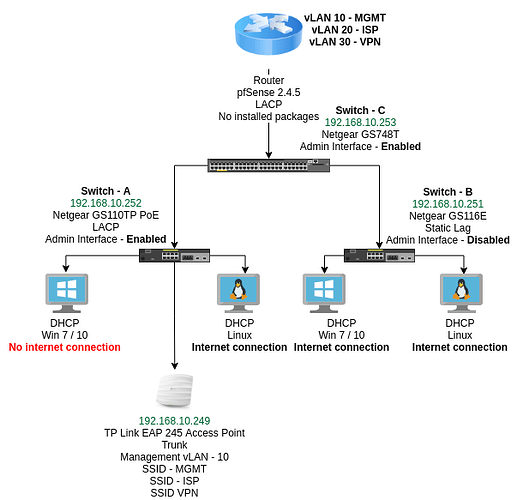 Perhaps someone has encountered the weird issues I'm facing ?
Background:
Have had my setup in place for nearly 2 years running without any major issues. All switches and access points are on a management vlan. Clients on any OS can connect to the internet and other vlans as defined by my rules.
Changes:
As part of my OCD I renumbered my management vLAN from 11 to 10, so all network switches and AP were renumbered from 11 to 10 subnet.
Result 1:
Lost access to my access point interface on 192.168.10.249 over the wired network. Did a factory reset. Still could not connect to the management interface.
If I connect to SSID-MGMT I can connect to the Access Point interface, Internet and devices on all vlans.
If I connect to SSID-ISP I can access the management interface, internet and devices on all vlans.
The access point is on a trunk with all vlans. The ethernet port I tried with both tagged and untagged but no luck.
Result 2:
Linux laptop can connect wired/wireless to the network with access to the network and all vlans.
Windows 7 & 10 laptop connects to the access point but fails to get internet access, when connected to switch A or C no internet access. However, when connected to switch B it has full internet and network access.
All my switches are Netgear, Smart Managed Pro, but Switch C is a Smart Managed Plus which means it's still managed but with fewer features.
I discovered the Admin Interface was disabled on Switch C, however all the ports work. The Admin Interfaces on the other switches default to enabled, honestly I thought it was allowing access to the switch interface.
In my quest to solve this issue, I have ended up rebuilding pfSense 2.4.5 with a clean build along with factory resetting all switches except switch C.
If anyone has any clues it would be greatly appreciated