So I've decided I think I want to take a stab at UNIFI switching. I already use their AP's and love them, and my cisco gear is getting log in the tooth, plus they are power hogs. In the process of redesigning my home network , cough, lab, cough (see wife's eyes rolling) , I also wanted to build in some more redundancy. Primarily because I'm nervous about the single power supplies in the unifi switches, and also because I'd like to protect around bricking a switch on an upgrade (which compared to cisco) is more frequent. If my design is ok, and my math is right, this is also cheaper than having the 2 of the redundant power modules (the network switches and the server switches are in separate racks).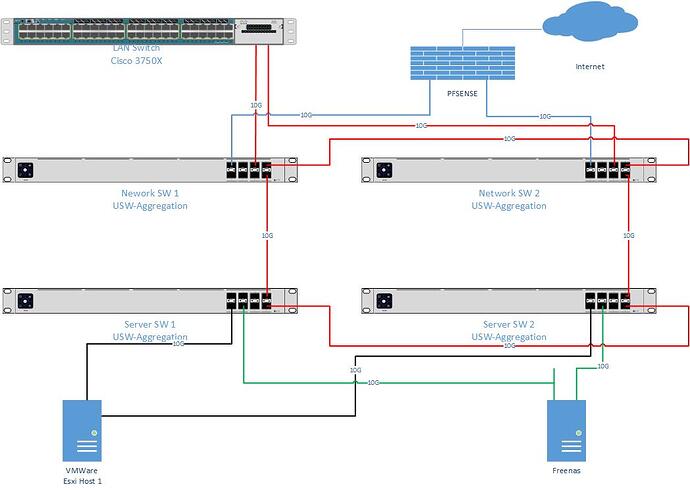 I think this is the direction I'm heading. I wanted to bounce it off people that have more experience with unifi than me

Notes :
Full mesh on the USQ-Aggregation switches
as I understand vmware , feeding from two switches should be fine
Unsure about Freenas (yes I haven't upgraded it to truenas yet) and feeding from 2 switches
Unsure about the PFSENSE box and multiple switch links but I believe if I read properly this should work.
Assuming RSTP enable between the switches of course.
On all links with the exception of the freenas box, they are trunked/multi VLAN
Is there anything that I'm going to get into serious trouble with ?
and lastly, What IF I wanted to LAGG any of the connections to the servers. could I LAGG group them and still have separate failover switches… Understanding that Unifi doesn't support MLAGG but could I do 2 10gig lagg on one switch and a failover to another 2 10Gig lag on the other switch ? Not that I need 20gig but since I'm on a learning path I'm curious as to what I COULD do

I welcome comments and opinions…
Thanks!