Hello all, hope someone can help with my issue.
I'm having intermittent lost of connectivity on my LAN and WAN. Sometimes I don't completely loose the connection but it's very slow. This happens on both wired and wireless connections.
I'm sometimes not able to access internal resources but most of the issue is with internet connectivity. My Amazon echo devices, security cameras, streaming devices, TVs and a lot of other devices keeps disconnecting from the internet. Again this is on both wired and wireless connections.
I have multiple switches and access points so all my devices are not connected to the same switch or AP. I have multiple VLANs setup and a Windows 2019 active directory domain. My LAN and CorpWIFI uses the AD domain controller for DNS and authentication.
All other VLANS uses the firewall gateway for DNS. I use the latest version of PFSense for my firewall and unifi switches and APs with the latest firmware and controller software.
I have 2 Internet connections for redundancy because I work from home and can not be without internet connectivity. I have the same issue on both connections, I've also replaced my primary modem as well with no change.
My primary workstation has a 10gb hardwired connection to my core switch which is a unifi 16XG and I don't seem to have the problem with it. The only issue I have with the primary workstation is after a reboot. I have to release and renew the IP or wait about 5 minutes before I have internet connectivity. The workstation is on the LAN VLAN and this only happens on the 10gb connection, not the 1gb onboard nic. The 10gb nic has the duplex and speed set to auto on both ends.
I hope someone can help with this mystery.
I have attached a network diagram of my setup.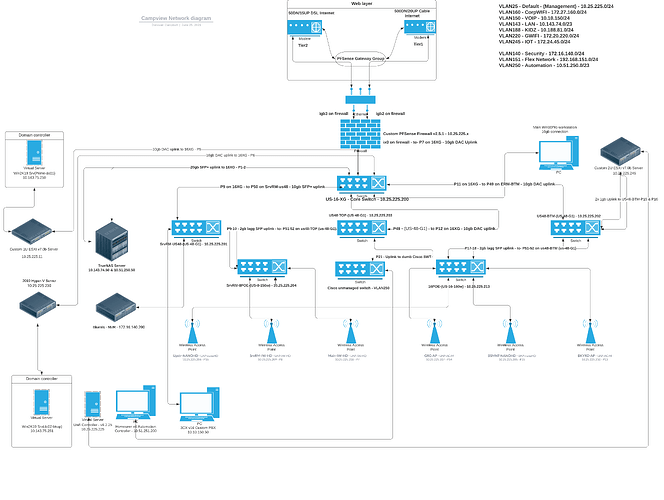 Thank you in advance.