I'm a homelab'er just wanting to learn how to setup networking.
I would very much appreciate some advice on how to structure and secure my network and servers.
I have a home network consisting of:
A pfSense firewall + VPN server (Dell r210II)
EdgeSwitch 48 port
3x Unifi Nano AP
XCP-NG (Dell r630) running dfferent VMs
TrueNAS/Freenas (Dell r720xd)
Variety of PC/Mac/Game consoles
IOT devices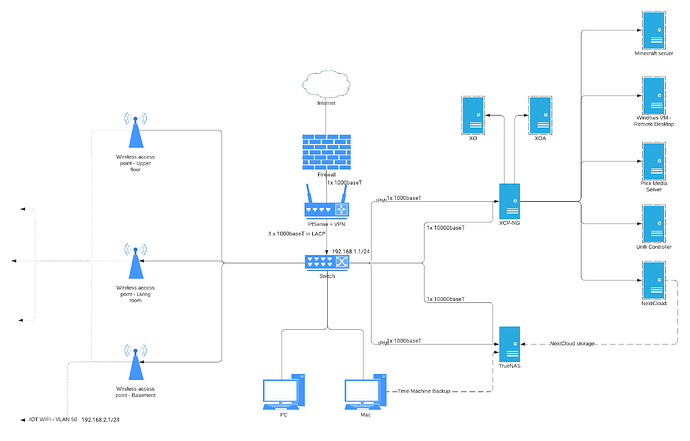 So far I have moved my IOT devices on VLAN 50 segregated from my default VLAN.
I have a Minecraft server that I would like to open up for the my kids and their friends, but what I undersand is that I should put it in a DMZ. I have watched this guide: https://youtu.be/QFk5jX-oeSo?t=812
The guide advices to have dedicated NICs to the DMZ and the rest of the network. In my current setup the servers are hosted on my XCP-NG that also host VMs that should not be in the DMZ. My Unifi controller and media plex server for example. Is there a smart way of during this or is it not possible?
I'm sorry if this is a basic question but I really would like to learn more about networking and servers so every help and advice is highly appreciated.
Thanks in advance.