Hello all,
I´m new in the forum, I work in IT, but not on the network side of the power

. I have a basic acknowledge of network and the videos from Tom are helping me a lot.
My actual setup is very basic, one ISP fiber modem, an Asus router RT-AC87u and one Qnap TS-269 Pro NAS.
I would like to move to pfSense (actually I already bought a Qotom 6 LAN ports - 60GB msata and 8GB ram and I start to play around with), to have more security on my network.
I bought the Qotom 6 LAN ports with the thoughts to use those extra ports, for my NAS, my work laptop and for now my Asus router on a different network. (My plan shortly is to buy an UniFi AC Pro after the quarantine)
If you guys could help me with some question:
1 - My Qnap NAS has 2 LAN ports, I will be able to add one subnet each? I can configure one of the LAN ports to go out just via VPN, and the other just for port 32400 for Plex Media, Qsync… and nothing else(inside and out of my network)?
2 - My Asus router can continue to do the DHCP for their connections? Can I still be able to create more than 2 SSIDs? (This connection do not need to be much secure for now).
Below a picture of my idea: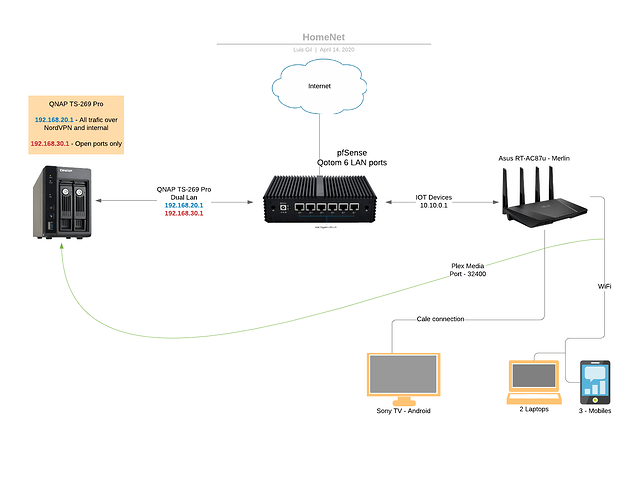 If any of you already had, or have this configuration and can help me, I will really appreciate if you can help with this setup.
Thank you