I've been greatly enjoying the youtube videos, and recently had a terrible experience with a Unifi Dream Machine for my home to replace a dying Netgear Nighthawk R7000. I loved the promise, but it won't stay up for more than a day before all the ports die and it needs to be reset. And yes, I tried a LOT of different firmware!
I'm getting it refunded, and I'm thinking of building out my network like this: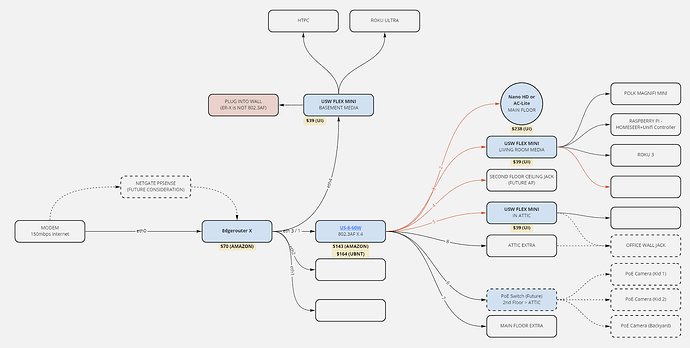 Does this make sense? Or can I avoid the edgerouter entirely if I am using a Netgate SG1100? It seems like the SG1100 would do IDS/IPS, and full gigabit routing - i would just run the modem into it and the LAN port would connect to the Unifi switch. I can tolerate a tiny bit of CLI work but I don't want it to become a new hobby, and that's what I hear most often about the Edgerouter devices… it doesn't sound like it would be easy to craft a firewall for, for someone with little experience doing so. My internet connection is 150mbps so there's no concern about a bottleneck (the main reason i'm not looking at a USG).
I'm also open to other avenues if they will be a better fit! My primary needs are port forwarding, static ip assignments, a really good firewall with little configuration, and i would really like IDS/IPS. My home automation stuff is on a homeseer pi controller and i try to keep everything zwave, but i'll eventually be adding a video doorbell and some PoE cameras and they probably want to be on their own separate network (along with an ecobee)