I know I may be asking a lot from the forum, but what the heck! I may as well try.
The MikroTik and any hard core routing is outside of my expertise, but I know enough to get hurt. What I am trying to do is offload the network / vlan routing duties from my pfsense router running on an old Dell R610 server to a new MikroTik CRS309-1G-8S+ running RouterOS. The setup of the MikroTik is completely foreign to me, so I really have no idea if what I am doing is correct.
Here's a diagram of what I want, not exactly how I have it setup at the moment though.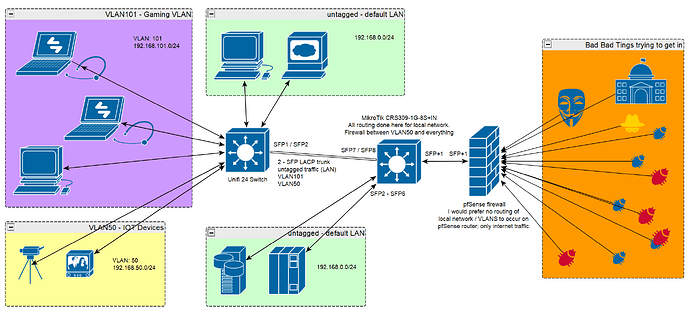 ONe of the major questions I have is regarding the trunk from UniFi switch to the MikroTik across the bonded interfaces. In the UniFi port configuration (SFP1/2 LACP) I can pass All traffic, which includes tagged and untagged. On the MikroTik, I can only configure VLANs. Untagged traffic isn't passed.
Help!
Cheers,