Hey all, I'm starting to do some upgrades to my little lab I got going on. My goal is to have my gaming PC/Workstation connected to my unRAID server through a 10G SFP+ connection using a MikroTik CRS305-1G-4S+. I want to be able to still access the internet/rest of the network but I want to make sure that the connection to the server is 10G speeds.
This is my Simplified setup:

(MikroTik in swOS and is connected to the UniFi switch through the management port)
I don't have the SFP+ cables yet but I went ahead and did some configs in pfSENSE and the UniFi Controller.
VLAN ID/rules in pfSENSE:

UniFi Controller: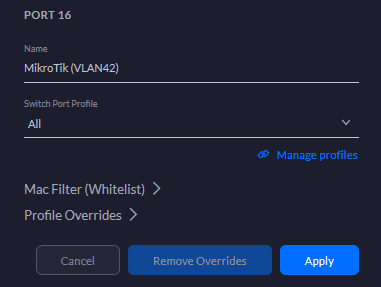 MikroTik VLAN/VLANS pages:

Now, couple of questions.
If the traffic has to go, let's say (PC>MikroTik>UniFi>pfSense>UniFi>MikroTik>Server), would it slow to 1000BASE-T speeds once it hits the Unifi Switch and stay at that speed?

VLAN's. I know there's an error in there somewhere; go easy on me I'm still learning.

VLAN's. Does this even make sense to do it this way? Am I over thinking it?
Thanks for any help.