Hi all,
I know there isn't many Mikrotik people here but desperate time…
I currently have a pair of OPNSense firewall configured in HA. The firewall has 2 sfp+ ports. 1 is used for the WAN interface and the other asd LAN interface.
The overall network look like this: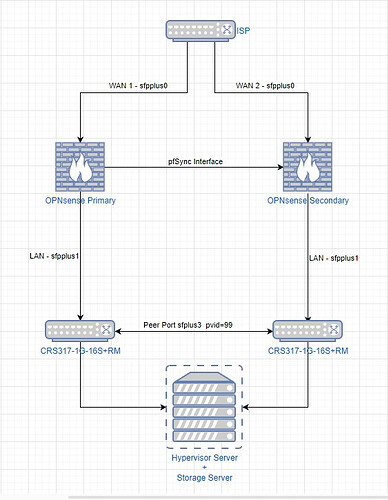 At the moment, each firewall are only connected to one switches unlike the servers…
I was told that with non Mikrotik switches, with the existing configuration, the servers are being told they can go to either switch to reach the default gateway, but the active firewall is only present on one of them, requiring traffic that hits the wrong switch to traverse an extra hop to the active firewall. Is this also true for Mikrotik switches in MLAG configuration? From what I understand from ready the MLAG configuration guide, is that the traffic is managed via the MLAG peer link and therefore shouldn't end up in the non active firewall. Is my understanding correct
If I don't change the existing wiring how much of a performance impact do I have when the traffic that hits the wrong switch has when it has to traverse an extra hop?
Do I need to setup some Spanning Tree Protocol (STP) between the 2 switches
Thank you all in advance