Hi,
Hopefully someone could help me with this issue I have been trying to resolve for more than a week.
I'm using HAProxy on PfSense with LetsEncrypt certificates.
The issue I have is as follows:
The SSL certificate is setup correctly and I'm able to assign the certificate to my PfSense web interface on port 10443 and it works fine.
I created a second certificate for a server on my network.
I have followed Tom's guide to the letter for setting up the backend and frontend of HAProxy, but when I go to an SNI, it shows the certificate as valid but has a 503 Service Unavailable error. However, if I access the server via a different port (bypassing HAProxy) the site comes up, but with no valid certificate (as expected)
I'm clearly missing something, but can't figure out what.
Any help would be greatly appreciated.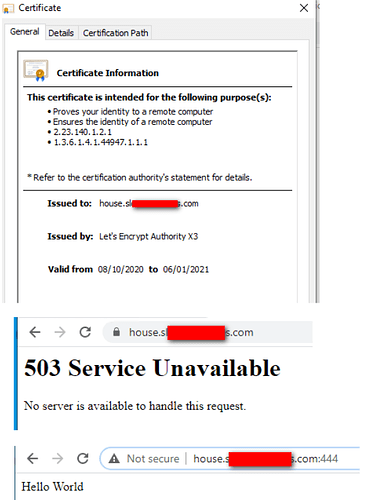 Regards,
Robert.