Hi,
i'm trying to configure gitea (a git server) on my internal docker host, behind pfsense
the web interface seem to work fine, but i can't get to access the git/ssh server itself.
i suspect i messed up something in the NAT configuration in pfsense, wich i'm not familiar with.
the docker container map the 22 internal port to 32022 on the docker host, and then i (tried to) configured NAT to redirect any :32022 on my WAN adress to :32022 on my internal docker host.
it look like this :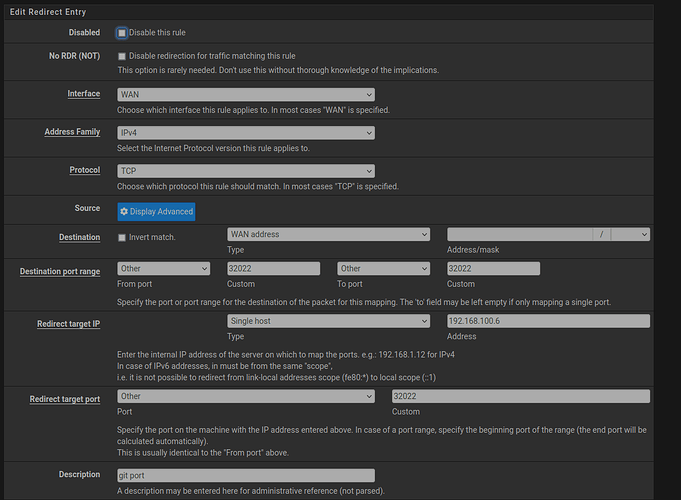 i can access gitea via web, but can't git into it.
using the server URL, it times out :
❯ ssh -v git@git.2027a.net      
OpenSSH_9.0p1, OpenSSL 1.1.1q  5 Jul 2022
debug1: Reading configuration data /home/mathieu/.ssh/config
debug1: /home/mathieu/.ssh/config line 30: Applying options for git.2027a.net
debug1: /home/mathieu/.ssh/config line 35: Applying options for *
debug1: Reading configuration data /etc/ssh/ssh_config
debug1: Connecting to git.2027a.net [184.161.210.228] port 32022.
debug1: connect to address 184.161.210.228 port 32022: Connection timed out
ssh: connect to host git.2027a.net port 32022: Connection timed out
zsh: exit 255   ssh -v git@git.2027a.net

i'm not sure how to test and fix it, and any help would be greatly appreciated