Hi All
So I recently setup a small business on the side of my Enterprise IT job as I really enjoy getting my hands dirty still.
This week I landed what is now potentially a small job to become much larger in the future. I quoted for a tidy up of a small business center data room, and now they want to know if I want to tender for their larger infrastructure refresh too!
Anyway I wanted to start a discussion on how people would tackle the following … Well mess.
This is what I'm looking at right now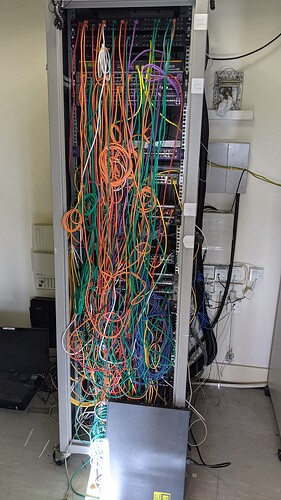 And yes it's a pretty rainbow, but in there somewhere there is a whole business center network and phone system


This is a mixture of client switches and business center switches, routers, etc etc. No shelving, multiple extension leads for power. I'm sure we have all seen something like this in our time.
My suggestion to the client was first to separate the building infrastructure from client hardware into two racks, however today I find there isn't room to add another rack due to the phone system mounted on the wall and other wall mounted equipment.
Clearly cable management is required here and at least some shelves for the small boxes hanging from their power cords.
So how would you tackle this? Clearly it needs to be documented as to where it all patches too and then a rip out and re-patch. Would you change the whole rack, trying to get everything untangled and reinstalled, or would you just tidy the existing rack to make it better. I can pretty much go either way on this project so lets discuss people's views on this.