For the longest time I've used a product called Paladin Crimp-All modular crimp set (10+ years). I used it for RG58/RG6 & telecom terminating.
I went searching around for dies for the newer cables to discover this company and it's products don't really exist, the few that do are on clearance sales.
I am extremely disappointed to find this tool has been dropped from production, it is one of the best made tools for it's job I've come across. I didn't go home with sore hands at the end of a day of doing craploads of cable terminations after I found this one. It requires very little force and the soft grip saved your hands.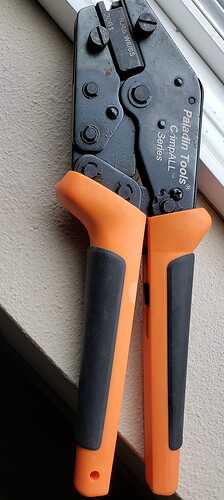 Platinum tools
Their gadget, might not fit cat 7 and beyond but does do Cat 6a STP or UTP and has modular die.

Klein tools:
Rated for Cat 6a, I've no idea about it's compatibility for connector standards beyond that.

Amazon has this no name crimp tool for large diameter Cat 7a and Cat 8. I've never tried it but the handles remind me of the cheap tools I learned on in school that hurt me a lot.
https://www.amazon.com/gp/product/B087WXLD7G/ref=ox_sc_act_title_2?smid=A2YX3SIJCJE2I8&psc=1
A tool of questionable quality, but seems like it does the job… Cat 8/Cat 8 keystone termination tool.
If you know any of and can think of some I've missed that would be relevant please do add it.