Hi all!
This thing has been puzzling me for days.
I got a vm running on a vlan.
Vlan 10.0.11.0 Outbound is set to a VPN ADDRESS (manual mode)
What I'm trying (not to achieve) but to understand is.
Please let's take a look at this screenshot to get where I dug into.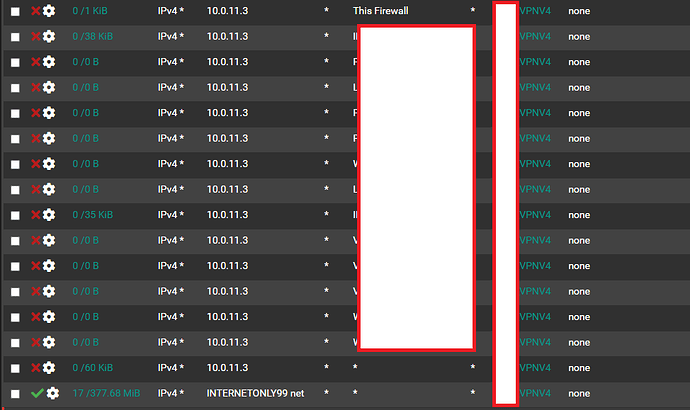 As you can see this looks the dumbest firewall ruleset on earth. But now here's what I don't understand.
At this moment, as of this screenshot. The vm on 10.0.11.3 gets no internet. Yippee

If I allow 10.0.11.3 to all (latest 10.0.11.3 rule) why does the vm gets Internet if ALL the inlcuded destinations (listed on top) gets a BLOCK policy?

The other intervlan/lan rules are working as they should
What does the to all destination includes that I cannot select within the drop down list?
Alternatively. The opposite is also true It seems I cannot get internet to a network if no allow all is involved in the chain.
I might be skipping a well known thing that I should know but my first reflex is to think:
what in the world is hidden into the 'to all' destination
Thanks for any thoughts