Would it be possible to enable https://forums.lawrencesystems.com to support replies via Email?
The use case being $Account is setup for Mailing List mode, and replies can be send via Email instead of only being available to post via the web-form of the specific topic.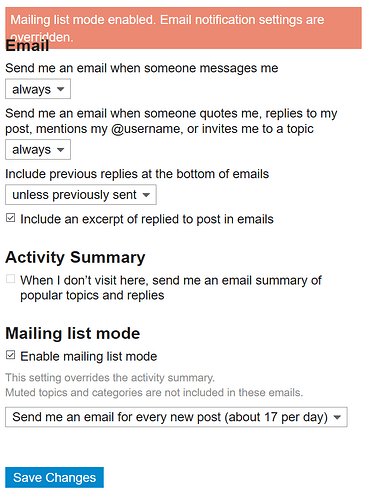 Currently this is not possible. Emails sent to postmaster _at_ forums.lawrencesystems.com returns to MTA server with Error code 400.
<postmaster@forums.lawrencesystems.com> delayed: forums.lawrencesystems.com:
    400 Network error: Could not connect to forums.lawrencesystems.com:25


Reporting-MTA: dns; mailrelay2-2.pub.mailoutpod1-cph3.one.com
Received-from-MTA: smtp; [IPv6:2a03:5440:2030:801:e141:c945:2851:e29] (2a03:5440:2030:801:e141:c945:2851:e29)
Original-Envelope-Id: f8178553-6f4a-11e9-931a-d0431ea8a290
Arrival-Date: Sun, 05 May 2019 15:32:19 +0000

Final-Recipient: rfc822; postmaster@forums.lawrencesystems.com
Action: delayed
Status: 5.4.7 (Message could not be delivered in the allotted time frame)
Remote-MTA: dns; forums.lawrencesystems.com
Diagnostic-Code: smtp; 400 Network error: Could not connect to forums.lawrencesystems.com:25