Hello. Would like to get some guidance on this project of mine and see if I may be on the right track.
We have a situation here where we will have two physical router gateways on the network, each connected to its own ISP. Due to business requirements, we cannot merge the two WANs onto a single router, thus two routers must exist.
Going forward we want users to be able to VPN into either gateway of their chosing, and be able to access the internal-web-server, as seen in the diagram below.
The general idea below is to setup a dedicated HAProxy server, set all devices's default gateway to point to the HAProxy, and have HAProxy handle the connections to the routers. Unfortunately I am quite new to this whole proxy thing and not sure if HAProxy would do what Im looking for. Or can I place a pfSense router with HAProxy package on there and achieve the same thing?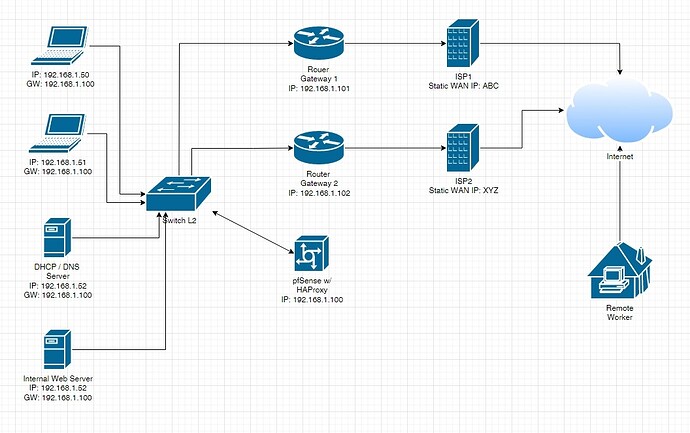 As a FYI, currently we have all devices's gateway are pointing to Router Gateway 1. The problem is that when remote users VPN via WAN-XYZ, into Router Gateway 2, they are unable to access the internal-web-server. To my understanding, this problem is due to the default gateway on the internal-web-server is set to Router Gateway 1.
Am I on the right track here?
Addition notes Router 2 will be a pfSense router.
Thank you in advance