NOTE THIS IS A FIXED PROBLEM, JUST A CURIOUSITY
Hello all,
So I've been using a (brand new) NanoHD, noticed the speed wasn't great - a speed test (fast.com) a few feet from my old wifi router and new NanoHD (non-tested unit switched off), revealed that the NanoHD was around a quarter the speed of the wifi router. What alerted me to the problem was that buffering occurred on Plex with the Nano (via mobile phone/wifi connection), but never happened with the old wifi router (Draytek Vigor 2762). I fiddled around with it for an hour and then just as I was giving up, I switched off a Blink camera module that had been on and was always auto-connecting to it (the Nano).
Once I did that, the speed was equal or better than my original Wifi Router. I do wonder if this was just coincidence as I had made changes to the network, such as the managed network switch. Port g5 is being used (no other PoE devices), and I just set the priority to High level, but that's pretty much it really. Also these changes meant a restart, then retest and at no point did the speed show signs of improvement.

Here's a basic schematic of my "network"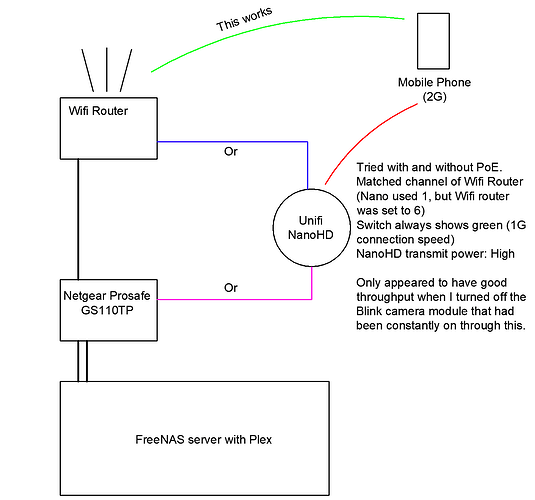 I've shown to cable lines to the Nano in pink and blue - I only rang one of these at any one time, just to clarify…of course the Nano only has one port!
Anyway, comments welcome. Did make me think that an average'ish person suffering these problems, may not have had the fortune to solve the problem, then they'd give Unifi a bad rep.