Guys,
Sharing is caring so spice up your Pfsense with HAProxy using a special 503 error page! You can steal my responsive AI Cats and my code at the bottom of the page. Free to use this however you want.
If you didn't know I like animals better than most people and not the ones on the city streets either

Don't worry this opens up a new page so they won't leave. Let me know what you think.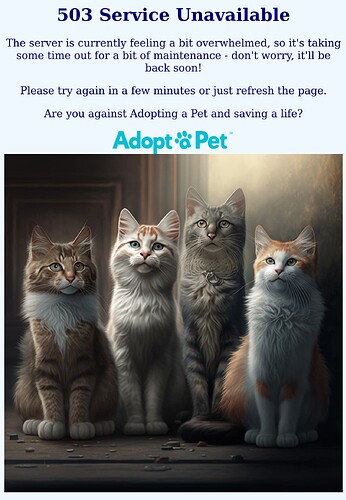 <html>
<head>
  <title>503 Service Unavailable</title>
  <style>
    body {
      text-align: center;
      background-color: #F0F8FF;
    }
    h1 {
      color: #000080;
    }
    p {
      color: #000080;
    }
  </style>
</head>
<body>
  <h1>503 Service Unavailable</h1>
<p style="font-size: larger;">The server is currently feeling a bit overwhelmed, so it's taking some time out for a bit of maintenance - don't worry, it'll be back soon!</p>
<p style="font-size: larger;">Please try again in a few minutes or just refresh the page.</p>
<p style="font-size: larger;">Are you against Adopting a Pet and saving a life?</p>
<a href="https://www.adoptapet.com/" target="_blank"><img src="https://prod-assets.production.omega.aapdev.org/img/AAPLogo-BluewithTM.svg" alt="AAP Logo" /></a>
<a href="https://www.adoptapet.com/" target="_blank"><img src="upload://eLFv0sOMQay4nCxCOnmC0xwM0m5.jpeg" alt="These AI Cats want homes too!" width="100%" height="auto">
</html>