Hi everyone,
I have had my pfSense SG-3100 and Unify switches for sometime, but what I can't seem to figure out is how to keep my pfSense (10.0.5.1) from jumping to other VLAN segments.
Configuration: pic attached - the 9 VLANs are from the main mvneta1 LAN.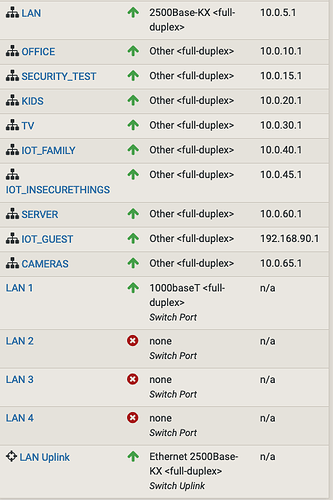 It will usually give itself an IP address and sometimes, like above it does not.
Placing in on the LAN (Unify side) only cripples everything else.

Here it just switched to another. When it jumps to the WiFi VLANs, my AP goes crazy and everthing starts to give themselves the 169.54… address.
I did go in the WiFi settings and in the Multicast and Broadcast Filtering I added the pfSense MAC Address.
In the WiFi Networks I did also notice: element-3450d127e3aa0072, which I have researched to disable and remove it, but it keeps coming back.
Thanks for the help.


showing that it actually gave it self an address in another VLAN.